Antiracism Resources: Archival Technology and Intentional Decisions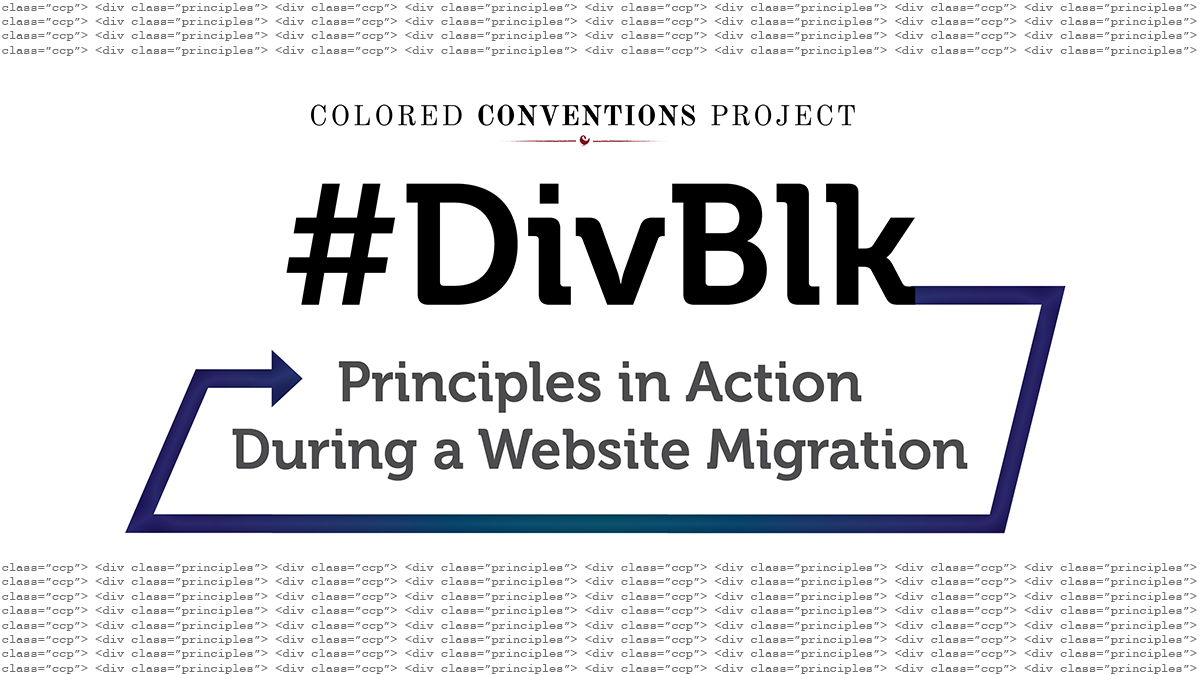 Throughout this blog series on antiracism resources, we have shared many digital projects, exhibitions, and initiatives that center on individuals and communities of color. As archivists, librarians, students, and researchers who work to uncover the stories and images of BIPOC folks throughout history, it is necessary to also take a step back and explore some efforts to create intentionality around how these stories are visually represented and made accessible.
An organization founded by the art historian, author, and scholar Dr. Lyneise Williams called the VERA (Visual Electronic Representations in the Archive) Collaborative works  "to raise awareness about the significance of aesthetic, cultural, and social implications of visual representations found in archives." Representations of and information about communities of color have long been under-valued, distorted, or erased from archives, museums, and history sites, which has significant implications for historical memory on multiple levels. During the Virtual 2020 Society of American Archivists (SAA) Annual Meeting,* Dr. Williams used the example of early newspapers in archives to demonstrate that technology is not neutral. In this example, Dr. Williams detailed how, together, the processes of twentieth-century newspaper printing, archival microfilming to capture and preserve newsprint, and digitization of that microfilm all add layers of flattening and distortion to depictions of people of color within the archival record. The VERA Collaborative provides models for ways memory organizations can address systemic racism within their collections management practices. 
The Colored Conventions Project (CCP) is one digital humanities initiative that exemplifies some of the intersections between history, visual culture, and technology in which the VERA Collaborative is interested. Developed collectively between students, librarians, and other professionals at the University of Delaware in 2012 (and becoming a flagship project of the Center for Black Digital Research at Pennsylvania State University since 2020), CCP developed Principles to guide their work of centering Black lives and especially Black women in the history of organizing for racial justice during the nineteenth century. In an introspective blog series called #DigBlk, participants with CCP shared many challenges, lessons, and their decision-making processes for migrating the core websites of the project, as well as ensuring that this work aligned with their stated Principles. These reflections on the technical and structural details, in addition to the thought process behind digital usability and aesthetic design of digital collections and exhibitions, give voice to the intentionality of this work and provide takeaways for developing future antiracist projects.
Archivist S.L. Ziegler, writing about Digitization Selection Criteria as Anti-Racist Action in The Code4Lib Journal, reflects on another aspect of the VERA Collaborative's work by detailing how institutional policies must change and become more representative. The author cites archival and related literature that makes clear how choices about digitization priorities impact people and communities. In turn, Ziegler considers how digital collections development has historically been, and too often still is, grounded in policies that reflect both implicit and explicit racism and what we in the field can do about it: "those of us who choose what to digitize and thus what narratives to promote, what history to highlight, and what legacies to further have the opportunity to enact anti-racist action through digitization prioritization policies that counteract our racist past."
We'd love to hear your thoughts on these topics, or reflections on the following questions: Have you examined any organizational policies and procedures to understand their impact on collections, access, or digital representation? How are you centering intentionality and traditionally marginalized voices within your archival management processes? Is this an institution-wide effort? Please comment below, email us at info@DHPSNY.org, or connect with us on the DHPSNY Facebook page or DHPSNY Community Facebook Group. 
This is part of a biweekly blog series on sharing information, promoting resources, encouraging discussion, and amplifying the voices of Black, Indigenous, and People of Color (BIPOC) doing antiracism work in archives, museums, history sites, and library special collections. DHPSNY is committed to supporting the diverse network of collecting institutions that safeguard and ensure access to historical records and library research materials across New York State. To learn more, visit our first blog post in the series.
*As a bonus resource, if you have the ability to access the 2020 Virtual Joint Annual Meeting of the Council of State Archivists (CoSA) and the Society of American Archivists (SAA) referenced above, don't miss Session 5B - "Erasure and the Aesthetics of Digital Archival Representations: Never Again!" to watch Dr. Williams present about the VERA Collaborative, as well as other scholars discussing these important topics.
Back To Blog