Antiracism Resources: New York State Historical Records Advisory Board Statement of Principles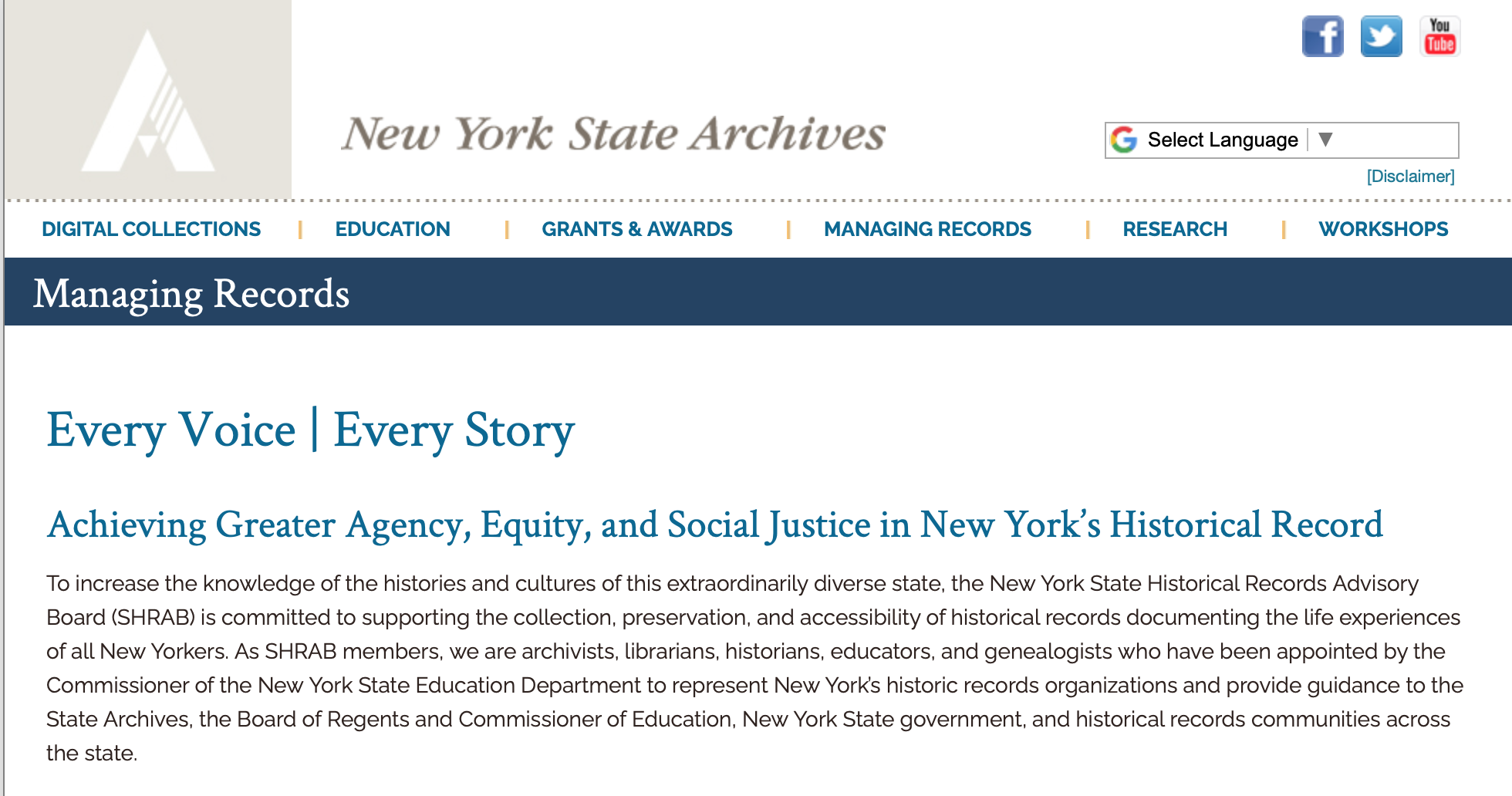 To increase the knowledge of the histories and cultures of this extraordinarily diverse state, the New York State Historical Records Advisory Board (SHRAB) is committed to supporting the collection, preservation, and accessibility of historical records documenting the life experiences of all New Yorkers. As part of this effort, the NY SHRAB has published a statement of principles that aim to assess and address the impact of systemic racism on the historical records community and associated professions in New York State. Every Voice Every Story: Achieving Greater Agency, Equity, and Social Justice in New York's Historical Record is composed of 5 interconnected pillars and a resource guide that serve as starting points for collecting institutions' efforts to address racism and amplify the voices of marginalized communities.
In addition to this statement, the NY SHRAB looks forward to working with DHPSNY to develop programming over the next five years that aims to specifically address issues of race, inequality, and marginalization in the historical records community of New York State.
We hope that you will review the NY SHRAB statement and share it with your organization and peers. How do you think it will impact or improve your work? Please share any comments or feedback below, email us at info@DHPSNY.org, or connect with us on the DHPSNY Facebook page or DHPSNY Community Facebook Group. 
This is part of a biweekly blog series on sharing information, promoting resources, encouraging discussion, and amplifying the voices of Black, Indigenous, and People of Color (BIPOC) doing antiracism work in archives, museums, history sites, and library special collections. DHPSNY is committed to supporting the diverse network of collecting institutions that safeguard and ensure access to historical records and library research materials across New York State. To learn more, visit our first blog post in the series.
Back To Blog