Antiracism Resources: Using Cultural Celebrations to Center Indigenous Experiences and Perspectives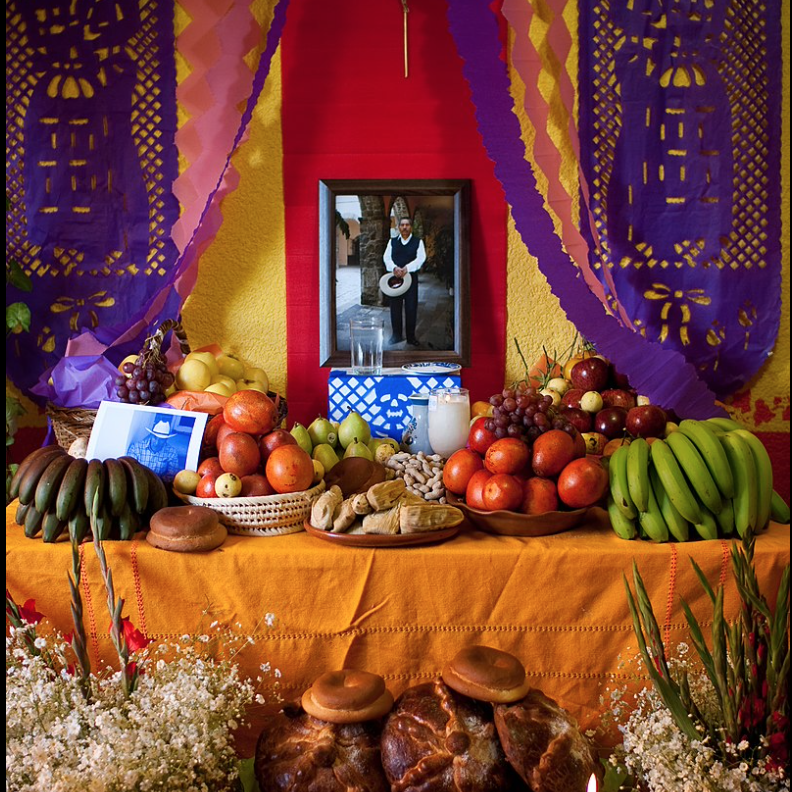 This month, in conjunction with DHPSNY, Aria and her co-facilitators explored the relationships between non-Native-led museums, archives and libraries, and contemporary Native makers, artists, academics, and researchers. Aria, Viridiana Garcia Choy, and William Walker used the case study of the Día de los Muertos Program, coordinated by the Cooperstown Graduate Program, the Mexican-American community in Otsego County, and the Village Library of Cooperstown as a concrete example of how to successfully do this work.
The DHPSNY Dialogue co-facilitators and the driving forces behind this program were:
Viridiana Garcia Choy is the Education Department Associate Manager at the Whitney Museum of Art. Viridiana, who hails from Oaxaca, Mexico, completed her Master's in Museum Studies at the Cooperstown Graduate Program at SUNY Oneonta in 2019.
William S. Walker is Associate Professor of history at the Cooperstown Graduate Program. He is the author of A Living Exhibition: The Smithsonian and the Transformation of the Universal Museum and a lead editor of History@Work, the blog of the National Council on Public History. An active public historian, Professor Walker oversees CGP Community Stories, an ongoing oral history project that uses recorded narratives to initiate public dialogue programs on critical social and environmental issues. His areas of expertise are public history, 20th-century U.S. cultural and intellectual history, and the history of race and ethnicity, especially as related to museums. He is committed to equity and inclusion in the field, and his courses emphasize building anti-racist and anti-oppression knowledge and skills. You can find him on Twitter @willcooperstown. 
Almost a decade ago, Dr. Walker started teaching a class at the Cooperstown Graduate Program (CGP) on migration and community. As he delved into the content for this class and continued to look for a larger community with which to experience his own Puerto Rican culture, he wanted to incorporate programming with a distinctly Latinx focus.   
Around the same time, Dr. Walker met Ms. Garcia Choy through a mutual friend. Ms. Garcia Choy was living in Oneonta at the time and was not yet a CGP student. She was struggling with homesickness, missing her community in Oaxaca, Mexico. She began working with Dr. Walker to create a program that would not only connect her to her roots but also be a way to connect with the larger Hispanic and Mexican communities in Otsego County. With the help of his CGP students, Dr. Walker, Ms. Garcia Choy, and their mutual friend planned a potluck for the Latinx community of Otsego County at the Graduate Program's building in Cooperstown.
The potluck evolved into a Día de los Muertos (Day of the Dead) program at CGP. Día de los Muertos is a Mexican holiday celebrated from October 31-November 2 each year. A blend of Mesoamerican ritual, European religion, and Spanish culture, the holiday honors the memories of deceased relatives with food, drink and celebration. In 2017, Dr. Walker and Ms. Garcia Choy, along with CGP students, moved the program to the Village Library of Cooperstown. That year they had over 50 participants who came to learn about Mexican culture, and this celebration of remembrance and welcoming back of the dead. As additional students of Mexican descent joined CGP and the annual program planning, the celebration incorporated more details of traditional Day of the Dead celebrations throughout Mexico.
This program has continued in partnership with the Village Library and has gotten larger every year. In 2022 the program hosted 118 participants. The program is geared towards families and children and is grounded in relationships and community building. It has allowed the wider population of Cooperstown and the surrounding area to connect with their Latinx neighbors in ways that help facilitate deeper relationships and understanding; this in turn helps to create stronger cross-cultural community. The key to the success of this programming and wider community impact is its reliance on the Latinx communities' lived experiences and centering them as the key knowledge-makers and experts behind the programming and information shared.
In the 2020 census, almost 20% of New Yorkers identified as Hispanic. In Otsego County, where Oneonta and Cooperstown are located, 4% of the residents identified as Hispanic in this same census. That equates to 2,341 people out of 58,123 total residents and is the fastest growing non-white population in the county.
Consider these questions as you are thinking about developing similar cross-cultural programing at your own organization:
Have you had successes like Will and Viri's/Dia de los Muertos?
Have you had challenges doing programming like this before?
Who is your organization already in relationship with?
What is your organization's past experience with cross-cultural celebrations and programming?
What are the opportunities to step outside your comfort zone?
What does your organization need to more fully embrace and support cross-cultural programming in your community?
You can access a downloadable version of the cross-cultural program development prompts we used to guide our conversation here.
How does your non-Native led organization build relationships with Native makers, artists, researchers and academics to center Indigenous and Native experiences and perspective? Please let us know if you have any thoughts or further resources on this topic, or projects you'd like to highlight for Hispanic Heritage Month. You can reach us by email at info@DHPSNY.org, or connect with us on the DHPSNY Facebook page or DHPSNY Community Facebook Group.
This post is part of a blog series on sharing information, promoting resources, encouraging discussion, and amplifying the voices of Black, Indigenous, and People of Color (BIPOC) doing antiracism work in archives, museums, history sites, and library special collections. DHPSNY is committed to supporting the diverse network of collecting institutions that safeguard and ensure access to historical records and library research materials across New York State. To learn more, visit our first blog post in the series.
To access the full list of resources in this series, visit our Antiracism Resources links spreadsheet.
 
*This entry is cross-posted on the Aria Strategies and DHPSNY blogs.
Image: "Altar tradicional de día de muertos en Milpa Alta, México DF."
Back To Blog