Education
DHPSNY offers a variety of educational programs and services to qualifying New York institutions. Presented free of charge throughout the state, DHPSNY's programs address the needs of professionals and volunteers responsible for the care and handling of historical records. DHPSNY's workshops and webinars discuss emerging issues and best practices, with content scaled to apply to small- and medium-sized organizations with limited resources.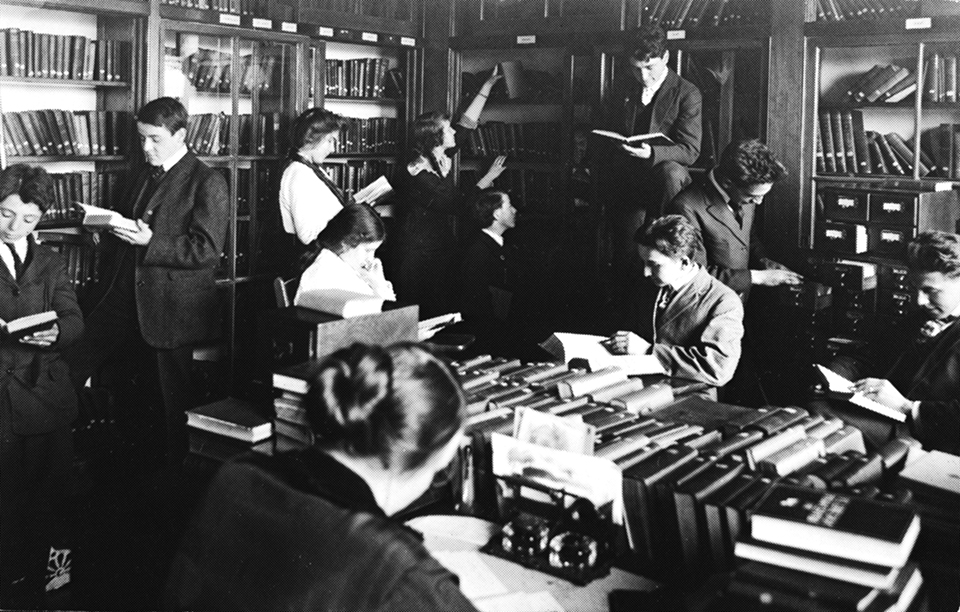 Mamaroneck High School Library, 1910; New York State Archives
Workshops
DHPSNY's workshops promote interactive learning, networking, and collaboration. Presented throughout the state, workshops emphasize hands-on learning exercises and provide supplemental resources. View the schedule of upcoming workshops.
---
Webinars
DHPSNY's webinar series is a great alternative to face-to-face workshops. Webinar topics are more narrowly focused, with more opportunities for questions and responses. Webinars are recorded, archived, and made available for download from DHPSNY's Resources page. View the schedule of upcoming webinars.
---
Technical assistance
DHPSNY provides free one-on-one technical and reference assistance to New York's collecting institutions. Staff is available for questions regarding collections management, conservation treatment and rehousing, collection storage and handling, disaster preparedness and response, environmental management, digital imaging, and fundraising. Contact DHPSNY staff, call (215) 545-0613, or e-mail info@dhpsny.org.