"Photographs in the Archive: Arranging and Describing Visual Materials" Webinar Recording Now Available!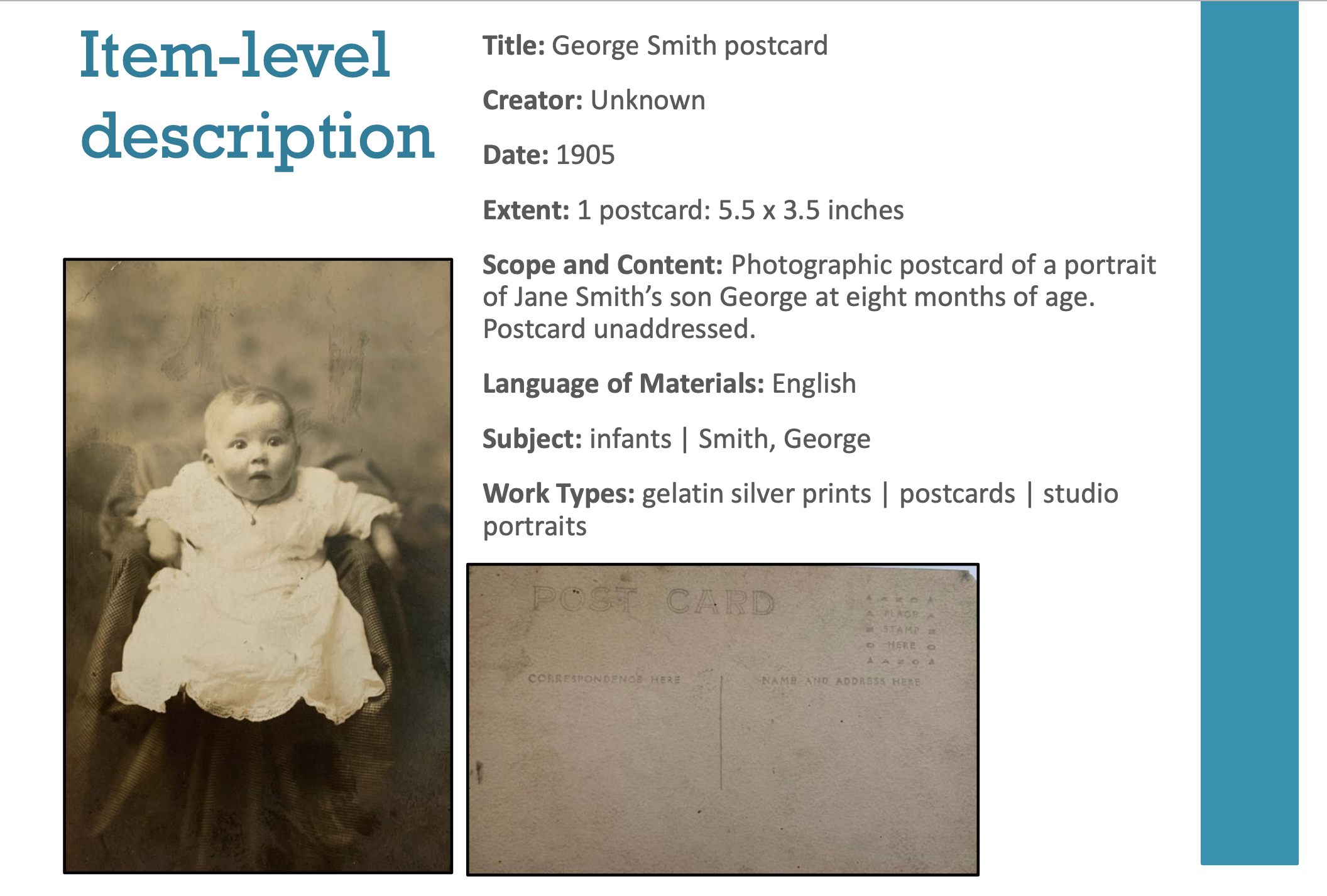 In our most recent live webinar Photographs in the Archive: Arranging and Describing Visual Materials, DHPSNY Preservation Specialist Amanda Murray discussed important considerations for successfully arranging and describing visual materials with the goals of gaining physical and intellectual control, as well as providing access points. She also touched on preservation considerations for visual materials and, at the end of the presentation, answered a stream of thoughtful questions from the audience.
Below are links to the recording and slides, as well as additional resources from presenter Amanda Murray. You can also find this recording, as well as recordings of past DHPSNY webinars, on the DHPSNY Webinars page: https://dhpsny.org/webinars. 
 
Click here to view the recording.
Click here to download the slideshow.
 
Additional Resources
Cataloging Cultural Objects (CCO):
http://vraweb.org/resources/cataloging-cultural-objects/  
This standard provides details for item-level description and metadata for digital objects.
See also: http://www.ala.org/alcts/sites/ala.org.alcts/files/content/events/pastala/annual/06/08harpring.pdf
https://www.getty.edu/research/tools/vocabularies/cco_cdwa_for_museums.pdf
Digitization:
Conservation Center for Art and Historic Artifacts, Digitization 101 Webinar series: https://www.youtube.com/playlist?list=PLUwal4tAEZjSaTQjTE1JvofToG6pnN7XH
Cold Storage:
DHPSNY webinar: http://bit.ly/ColdAndFrozenStorage
National Park Service Cold Storage: https://www.nps.gov/museum/coldstorage/html/intro1_1.html
Processing manual examples:
SAA Description Section Documentation Portal: https://www2.archivists.org/groups/description-section/description-section-documentation-portal
SAA Museum Archives Section – Arrangement and Description examples: https://www2.archivists.org/groups/museum-archives-section/4-arrangement-and-description
Join us Tomorrow, October 14 at  2:00 PM for our next webinar Conducting a Basic Inventory. Learn more and register on our Webinars page, dhpsny.org/webinars.
Presented free of charge to New York institutions, DHPSNY's education programs address the needs of professionals and volunteers responsible for the care and handling of historical records. Our webinars address emerging issues and best practices, with content scaled to apply to small- and medium-sized organizations with limited resources.
Back To Blog