Planning & Assessment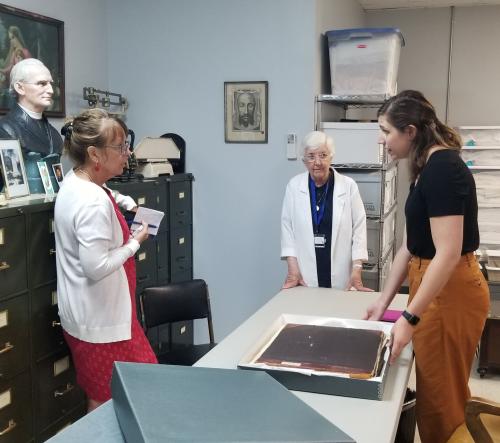 Documentary Heritage and Preservation Services for New York (DHPSNY) offers Planning & Assessment Services in five major areas. These services are designed to support New York organizations in improving and advancing program efforts while forming strategies for future growth and development. DHPSNY's Planning & Assessment Services consist of Archival Needs Assessments, Preservation Surveys, Condition Surveys, Strategic Planning Assistance, and Foundational Planning Assistance. In each instance, our services aim to improve adherence to best practices and are tailored to an organization's unique circumstances. 
Accepted applicants have the option of receiving in-person or virtual services for Strategic Planning Assistance, Archival Needs Assessments, Preservation Surveys, and Condition Surveys. Foundational Planning Assistance is a virtual service.
View the timelines of each service.
An Archival Needs Assessment will thoroughly examine your archival program, identifying and addressing specific organizational needs. Our assessments are conducted by an experienced archivist with needs assessment expertise. The assessment will pinpoint problems, recommend solutions, set priorities, and guide the development of your archival program.
Learn more.
Preservation Surveys focus on preventive care and mitigating deterioration and damage by analyzing policies, practices, and conditions in an institution and their impact on collections. A Preservation Survey is a valuable tool in fundraising for collections care and often a prerequisite for grants and other funding opportunities.
Learn more.
A Condition Survey is a valuable tool for institutions that have previously undergone a Preservation Survey and are now interested in evaluating the conditions of collection materials on a more granular level. During the survey process, a conservator will gather data on-site on a collection the institution has identified for the survey. This includes the condition of materials, the suitability of current housing and storage, and the conservation treatment needs of the collection.
Learn more.
DHPSNY has worked closely with the New York Council of Nonprofits (NYCON) to develop a curriculum geared specifically toward assisting small- and medium-sized cultural collecting institutions with engaging in strategic planning in a thoughtful way. This curriculum consists of two webinars, data collection via an online survey, and a virtual retreat under the guidance of a designated facilitator from DHPSNY or NYCON staff. The product of Strategic Planning Assistance is a document that establishes a common vision, an outline of strategic goals and objectives, recommendations for the effective allocation of resources, and an organizational structure that will support the work of implementation.
Learn more.
Foundational Planning Assistance has been designed as an informal and accessible process that provides participating institutions with a framework for institutional advancement, with an emphasis on strengthening the organizational components needed for optimal levels of collections stewardship. The overarching goal of Foundational Planning Assistance is to strengthen an organization's capacity and prepare them to engage in a comprehensive assessment within the next one to three years.
Learn more.
Application Process
Recipients of DHPSNY Planning & Assessment Services are selected by a competitive application process. Limited spaces are available. Applications are reviewed by an independent advisory committee of library, archives, and conservation professionals. Application materials for DHPSNY's Planning & Assessment Services are accepted year-round and reviewed three times a year.
Learn more about DHPSNY's application review process.
Applications for the spring 2024 review period are currently being accepted and are due by Friday, March 8, 2023. Applicants will be notified of their status by May 2024. Successful candidates will be able to start their program in the summer of 2024.
DHPSNY's application forms are powered by Submittable. The online platform allows you to save your work and return if you are unable to complete in one sitting, as well as upload a variety of supporting materials directly within the form. 
Questions?
DHPSNY staff is available to assist you in completing the application forms. Please contact Amanda Murray, DHPSNY Program Manager, for assistance, questions about eligibility, or additional information at (215) 545-0613 ext. 337 or info@dhpsny.org.