Antiracism Resources: Hispanic Heritage Month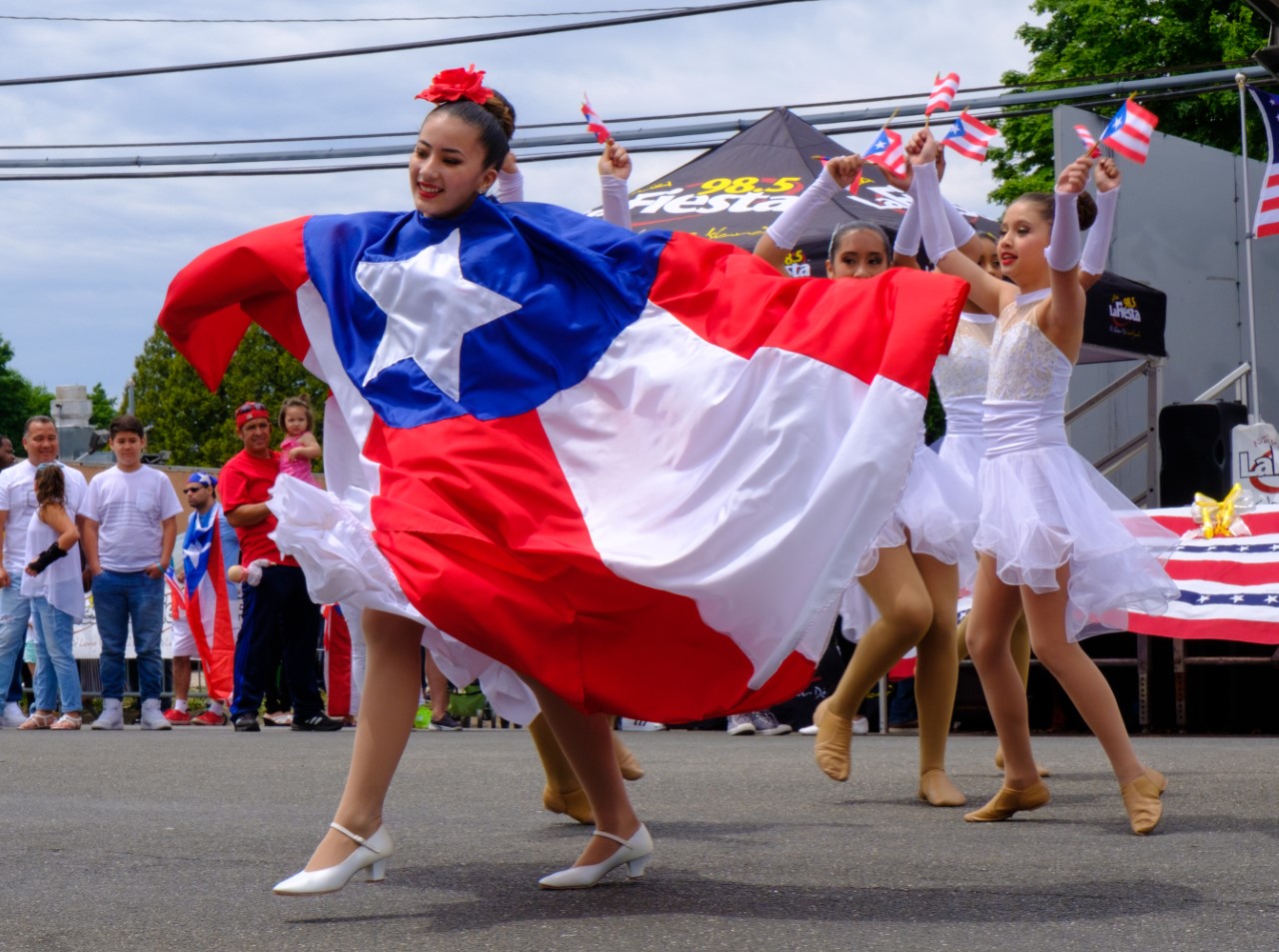 In celebration of Hispanic Heritage Month we are highlighting a project that is successfully preserving the history of the Puerto Rican community and the larger Hispanic community on Long Island. In 2021, the New York State Archives Documentary Heritage Program funded a project by Teatro Experimental Yerbabruja to survey and preserve the records of the annual Puerto Rican/Hispanic Day Parade in Brentwood, NY. The Parade, which has taken place since 1966, has served as an anchor of cultural affirmation for multiple generations of Puerto Ricans and other Latinos who, year after year, have gathered along Fifth Avenue in Brentwood. Due to changes in the parade leadership and in the community, there was no systematic effort to collect and preserve the history of this cultural institution on Long Island. 
According to Suffolk County records, the Parade has consistently attracted more than 50,000 spectators, and more than 3,000 participants who have paraded each year displaying a variety of artistic forms and celebrating Latino culture. The Parade is ranked as the largest annual parade of its kind on Long Island, and the second largest in New York State (exceeded only by the Puerto Rican Day Parade in Manhattan). Organizing and ultimately making accessible the records of 55 years of the Puerto Rican/Hispanic Day Parade on Long Island will honor the Puerto Rican community whose members were the pioneers in sharing their cultural heritage and opening the doors to Long Island's other Latino cultures. At the beginning of the project there was no publicly available historical record of the Long Island Puerto Rican/Latino community's cultural contributions, even though it is the area's fastest growing population.
Yerbabruja Theater is the leading institution that cultivates and organizes Latino culture on Long Island. Their experience as organizers of the Puerto Rican Parade and the Downtown Brentwood and Central Islip Festivals, and as Directors of the Arts Center, positioned them as one of the leading organizations with a robust working relationship with the community, elected officials, and other organizations in the Latino community on Long Island. They were able to partner with the Brentwood Public Library on this project, making for a perfect combination of community leadership with expertise in preserving historical materials.  
The project involved community meetings with over 40 different potential records holders, surveys of these materials, and a social media campaign designed to raise community awareness of the project. Thankfully, because of this campaign, a community member alerted project staff that records central to documenting the history of the parade were in danger of being destroyed. As a result, project staff from Yerbabruja were able to rescue over 24 cubic feet of these records and safely transfer them to their offices.
The rescued materials are currently being organized and inventoried with the goal of transferring them to the Brentwood Public Library, where they will serve as important documentation of the parade and a resource for the community. In addition to preserving valuable records, the project raised awareness of the importance of the Puerto Rican Day Parade. It also brought community leaders, politicians, media outlets, business owners, and local artists together with a common goal of ensuring that the history of their community survives.
Please let us know if you have any thoughts or further resources on this topic, or projects you'd like to highlight for Hispanic Heritage Month. You can reach us by email at info@DHPSNY.org, or connect with us on the DHPSNY Facebook page or DHPSNY Community Facebook Group.
This post is part of a biweekly blog series on sharing information, promoting resources, encouraging discussion, and amplifying the voices of Black, Indigenous, and People of Color (BIPOC) doing antiracism work in archives, museums, history sites, and library special collections. DHPSNY is committed to supporting the diverse network of collecting institutions that safeguard and ensure access to historical records and library research materials across New York State. To learn more, visit our first blog post in the series.
To access the full list of resources in this series, visit our Antiracism Resources links spreadsheet.
Back To Blog