Antiracism Resources: The Protocols for Native American Archival Material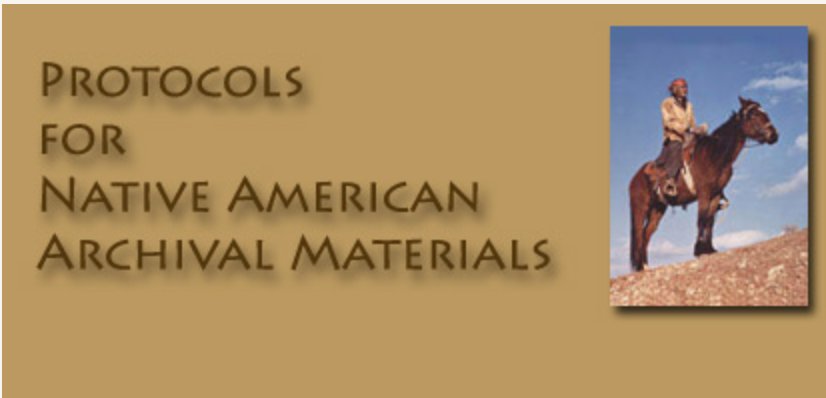 In 2006, the First Archivist Circle, working with representatives from Native American, First Nations, and Aboriginal communities, developed the Protocols for Native American Archival Material. The Protocols put forth best professional practices for culturally responsive care and use of Native American archival material, particularly those that are housed in non-tribal organizations.
While the Protocols have a long history in the archival field, and the Society of American Archivists (SAA) did not endorse them officially until 2018, their website lists useful resources for understanding reference projects and case studies that have utilized and referenced the Protocols. When approaching archival collections from an anti-racist perspective, it is important for all history organizations to have an understanding of the Protocols and how they affect the collections and stewardship actions for often-marginalized Native American materials.
The Native American Archives Section (NAAS) of in partnership with SAA and the Sustainable Heritage Network have created tools and resources providing archivists with tangible, practical examples of how the implementation of the Protocols work in repositories, most notably non-tribal repositories. The lesson plan Protocols 101: How to Start the Conversation at Your Institution is intended to assist organizations in the "education, adoption, and implementation process of the Protocols for Native American Archival Material." The Protocols Webinar Series is a five-part series exploring the core sections of the Protocols through case studies. The first three webinars in the series focus on Building Relationships of Mutual Respect with the Northern Arizona University, Striving for Balance in Context and Perspectives with the American Philosophical Society, and Providing Context through Centering Indigenous Voices with the Tribesourcing Southwest Film Project Team. Additional webinars in the series are forthcoming. 
Does your organization hold Native American materials? Have you engaged with the Protocols at all, and if so, how? How can you benefit your local community and tribal communities by learning about these practices, even if your organization does not steward related materials? Please comment below or email info@DHPSNY.org.
This is part of a biweekly blog series on sharing information, promoting resources, encouraging discussion, and amplifying the voices of Black, Indigenous, and People of Color (BIPOC) doing antiracism work in archives, museums, history sites, and library special collections. DHPSNY is committed to supporting the diverse network of collecting institutions that safeguard and ensure access to historical records and library research materials across New York State. To learn more, visit our first blog post in the series.
Image: Protocals for Native American Archival Material, detail, website banner: http://www2.nau.edu/libnap-p/.
Back To Blog