DHPS Tips: Celebrating American Archives Month with Collections Advocacy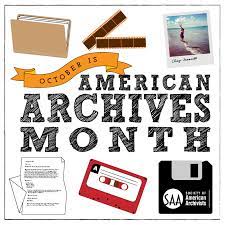 Each October, the Society of American Archivists leads the celebration of American Archives Month, emphasizing the significance of preserving historical documents and records. This observance serves as a poignant reminder of the vital role that archives and archivists play in safeguarding our collective heritage and making it accessible. It's a popular time for institutions to increase awareness about their collections. 
[Want to take a minute to learn about what archives are around us here in New York State? New York is home to thousands of repositories that preserve and make available the primary source materials that help to define our great state.  Learn about a repository near you by visiting our directory.] 
If you work with archival materials at an institution in New York State or elsewhere, part of your job is to likely to increase awareness of your collections whether to the general public, funders, or your own administration. There are always competing priorities for resources and attention from any of these audiences, so advocating for funding, staff, increased space, supplies, and more is a critical part of our collection stewardship duties. 
An essential first step in this advocacy work is creating a preservation plan. Sometimes framed as a strategic plan specifically for collections care, a detailed preservation plan can direct and guide the ongoing care and management of the collections by outlining collections needs, ongoing projects, and the necessary staffing and other resources necessary to carry out the projects. The plan can help collections care staff communicate their vision to other staff and administration as well as potential funders, as well as remain on task internally. 
The Conservation Center for Art and Historic Artifacts was curious about the benefits of such a plan and surveyed Philadelphia-area institutions with preservation plans in place. These were mainly small to mid-sized organizations. 95% reported that the plan "raised awareness of collection needs."  47.3% said that it "resulted in increased internal funding allocations for preservation" (almost 50% is a significant statistic). 89.5% reported that it "supported efforts to solicit funds for recommended preservation or conservation projects."     
If your institution doesn't have a preservation plan, or has one in need of updating, there are many resources online. Here are some links to get you started:  
And some further collections advocacy resources:  
Want help creating a preservation plan? Going through the DHPSNY Preservation Survey process is a great place to start. 
Happy Archives Month! 
Do you have a preservation topic, question, or creative solution you would like us to cover in this series? Reach us by email at info@DHPSNY.org, or connect with us on the DHPSNY Facebook page or DHPSNY Community Facebook Group.
Back To Blog