Interview: Hudson River Maritime Museum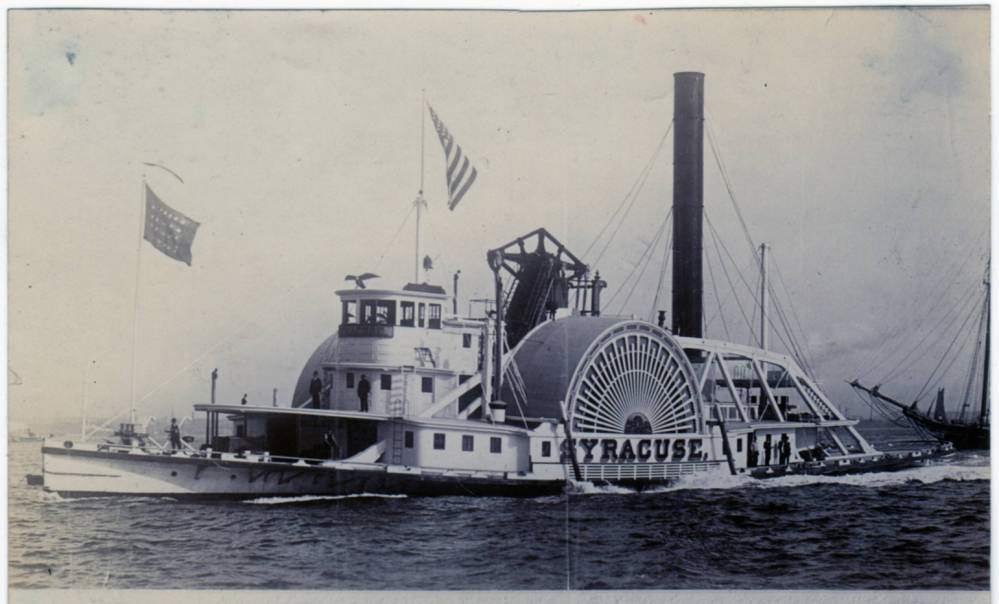 In 2017, we conducted a Preservation Survey for the Hudson River Maritime Museum (HRMM) and were thoroughly impressed by their dedication to preserving the Hudson River's maritime history. It was no surprise that HRRM was awarded a New York State Archives Documentary Heritage Program Grant this past May to support their work. This week, we reconnected with Carla Lesh, Collections Manager and Digital Archivist at HRMM, and chatted about their unique collections, the outcomes of their survey, and what's in store for the end of June.
Tell us a little about the Hudson River Maritime Museum. Where is it located and what is its mission?
The Hudson River Maritime Museum is located on the waterfront in Kingston, New York. The Hudson River Maritime Museum is dedicated to the education, preservation and interpretation of the maritime history, industry, traditions, and environment of the Hudson River and its tributaries.
What's the size and scope of the Museum's archival collections?
The Hudson River Maritime Museum's collection has become the largest permanent repository of materials directly documenting the maritime history of the Hudson River. The collection's strength is in its extensive materials representing nineteenth and early twentieth century shipping and boating on the Hudson River. The collection includes primary archival materials, historic glass plate negatives, photographs, an extensive assemblage of artifacts, more than 100 rare models of sailing craft, steamboats, tugboats and barges, textiles such as flags and uniforms, historic small craft, and an 1899 tugboat. In addition, the museum's holdings include a superb and valuable collection of fine art including paintings by internationally recognized artists including James Bard, Antonio Jacobsen, Anton Otto Fischer and William Muller, the work of regional artists, and contemporaneous lithographs. The museum also holds an extensive collection of plans, blueprints, and other materials relating to shipbuilding on the Hudson River. Extensive writings and audio recordings by participants in the river's shipping, boating, and fishing are also included. These collections are directly related to the museum's mission of preserving the river's maritime experience and educating the museum's extensive community of supporters, visitors, and researchers. Many of the museum's finest artifacts are on permanent exhibit while other materials are frequently showcased in temporary exhibits that are often displayed for two years or more. Archival materials are being digitized and placed on-line as resources permit. The website and its array of articles and historic images is frequently visited.  Research based on our collections has resulted in significant publications and exhibits by other institutions.
What organizational needs prompted you to apply for a Preservation Survey?
While the museum has made significant progress in the care of its collection, it recognizes that more work is necessary in securing its long term preservation and ensuring greater accessibility. Concerns remain about protecting the collection from fire, flood, and physical degradation over time. There are important opportunities to share these materials with broader audiences and to supplement the collection by strategically accessioning materials that will help the museum represent chapters of the region's maritime history that are not well documented at present. The museum is a growing institution, and recommendations for collections care offer critical guidance and planning priorities that can be used for heightening the awareness of needs, appealing for support, and targeting appropriate funding sources.
What have been some of the outcomes of your Survey? Have you been able to make progress toward any of the goals identified in the report?
Based on the recommendations of the Preservation Survey the museum has applied for, and received a Supplies Program grant through NYSCA/GHHN to purchase two environmental monitors. HRMM was recently awarded a New York State Archives Documentary Heritage Program grant that will enable us to assess and optimize our archival space.
What's your personal favorite item or collection in the Museum's archives?
No favorites. The variety of collections are all of great interest.
How do you make your archival collections accessible to the public? 
Finding aids are contributed to the Empire Archival Discovery Cooperative. Online exhibits are also found on the HRMM website at http://www.hrmm.org/online-exhibits.html. Appointments for researchers and research questions are answered regularly.
Have your collections been used to support any interesting research projects?
The HRMM collections have been loaned to New-York Historical Society, Fenimore Art Museum, Ulster County Tourism Display Case at the Ulster County Office Building, Albany Airport Art & Culture Program, and the I Love New York Hudson Valley Catskills Welcome Center.
Are there any upcoming exhibits, projects, or events you'd like to mention?
Boat tours on the solar powered boat Solaris begin June 22. More info at  http://www.hrmm.org/solar-boat-tours.html.
Image: Towboat "Syracuse" in New York Harbor. The towboat "Syracuse", built in 1857 and ran on the Hudson until 1898. The large circular structures on the sides of the boat are the paddlewheel covers. Note the lack of railings on the open decks. Photo taken in New York Harbor. 1890-1898. Hudson River Maritime Museum.
Back To Blog