Interview: Lake Placid Olympic Museum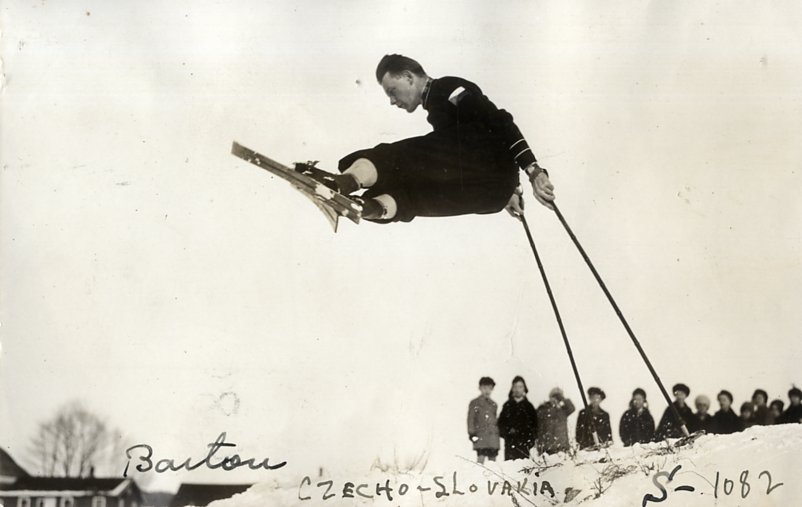 In celebration of Preservation Week, we caught up with Alison Haas, director of the Lake Placid Olympic Museum in Lake Placid, NY.  Lake Placid is one of only three communities in the world to have hosted a Winter Olympics twice, and the Museum is one of the only Olympic museums in the United States. In 2017, the Museum was awarded a DHPSNY Preservation Survey. 
Now, with a revitalization of the Museum in effect this spring, we chatted with Alison about the impact of DHPSNY's survey, the Museum's wide-ranging archive of materials, and more (including how a quick database search made a family from the Czech Republic very happy.)
Tell us a little about the Lake Placid Olympic Museum. Where is it located and what is its mission?
The Lake Placid Olympic Museum's mission is to tell the world about the Olympic movement and Lake Placid's rich winter sports history in order to promote the values of the Olympic Games to the broadest possible audience. Lake Placid, New York, was the site of two Olympic Winter Games in both 1932 and 1980 and has sent at least one athlete to the Games since 1924. Lake Placid is one of three communities in the world to have hosted a Winter Olympics twice, along with Innsbruck, Austria, and St. Moritz, Switzerland, making our collections significant not only on a regional and national level but internationally as well.
 
What's the size and scope of the archival collections?
The Lake Placid Olympic Museum holds an extensive collection of artifacts, photographs, documents, and other materials associated with Lake Placid's winter sports and its Olympic heritage. The archive houses 750 linear feet of materials from the 1980 Lake Placid Olympic Organizing Committee and documents from Godfrey Dewey, the President of the III Olympic Winter Games Committee. Within the archives, the Lake Placid Olympic Museum cares for photographs taken from both 1932 and 1980, a variety of Olympic-related works of art, and currently houses film reels documenting the Games. In addition, the Lake Placid Olympic Museum cares for 3D objects, such as Olympic torches, medals, sports memorabilia, equipment, and a textile collection.
 
What organizational needs prompted you to apply for a DHPSNY Preservation Survey in 2017?
The Lake Placid Olympic Museum's organization goals for the Preservation Survey in 2017 were to learn the methods used to better preserve oversize items within the collection (blueprints, posters, maps, and prints), the resources available for digitization of images and videos, and techniques for utilizing volunteers that handle the collections to assist with gaining further intellectual control. In addition, the museum would like to develop a long-range preservation plan, further improve collections care, and conserve our treasures.
 
Can you talk a little about the survey process? What did it entail and how was the experience?
Before Anastasia visited the museum, we were feeling overwhelmed by needing to gain both physical and intellectual control of our collection. She surveyed the archives and collections storage areas with us to understand our needs and how we could proceed with the limited resources and funding we had available to us. After her visit, DHPSNY provided us with a report that gave us attainable short-term, medium, and long-term goals. The experience and survey report was extremely helpful for a small museum with a staff size of three.
 
The past year has been challenging for cultural organizations, but also an opportunity to reflect, rethink, and start initiatives. Can you tell us a little about your pandemic experience and what you're working on now?
We were in a unique situation during the pandemic. Once we were finally able to return to work physically without being open to the public, we were able to spend time tackling some of the medium and long-term goals from the report given to us three years prior. We used this time to take a complete inventory of the items in our collection and rehouse items at the same time.
 
Has the DHPSNY Preservation Survey impacted or influenced your current work and/or future plans?
The DHPSNY Preservation Survey has had a tremendous impact on the lives of our collections. The Lake Placid Olympic Museum is currently undergoing major renovations and we had to move everything out of collections storage and archives into a temporary space for two years until we move back. The survey report is a blueprint for what we will strive for in our new collections space and work on preserving items properly before they live in their future home.
 
How do you make your archival collections accessible to the public?
We aim to make our collections available in a variety of ways from virtual exhibits to an online collections database, and appointments for researchers. Making our collection more accessible to staff and the public has been so rewarding.
 
Do you have a personal favorite story or collection item?
We had received an email from the Czech Republic looking for a photograph of his grandfather, Antonin Barton, who had competed at the 1932 Olympics as a skier. His family did not have any images of him competing or being at Lake Placid. With a quick search in our database, we were able to find approximately 5 images and sent them that day. The next morning, we received word from him and his mother that they had tears in their eyes and could not believe they were finally seeing images of their father/grandfather in Lake Placid for the Olympics.
Learn more about the Lake Placid Olympic Museum.
Image: Antonin Barton, competing in the 1932 Olympics as a skier, courtesy of the Lake Placid Olympic Museum. 
Back To Blog