Interview: Oneida County History Center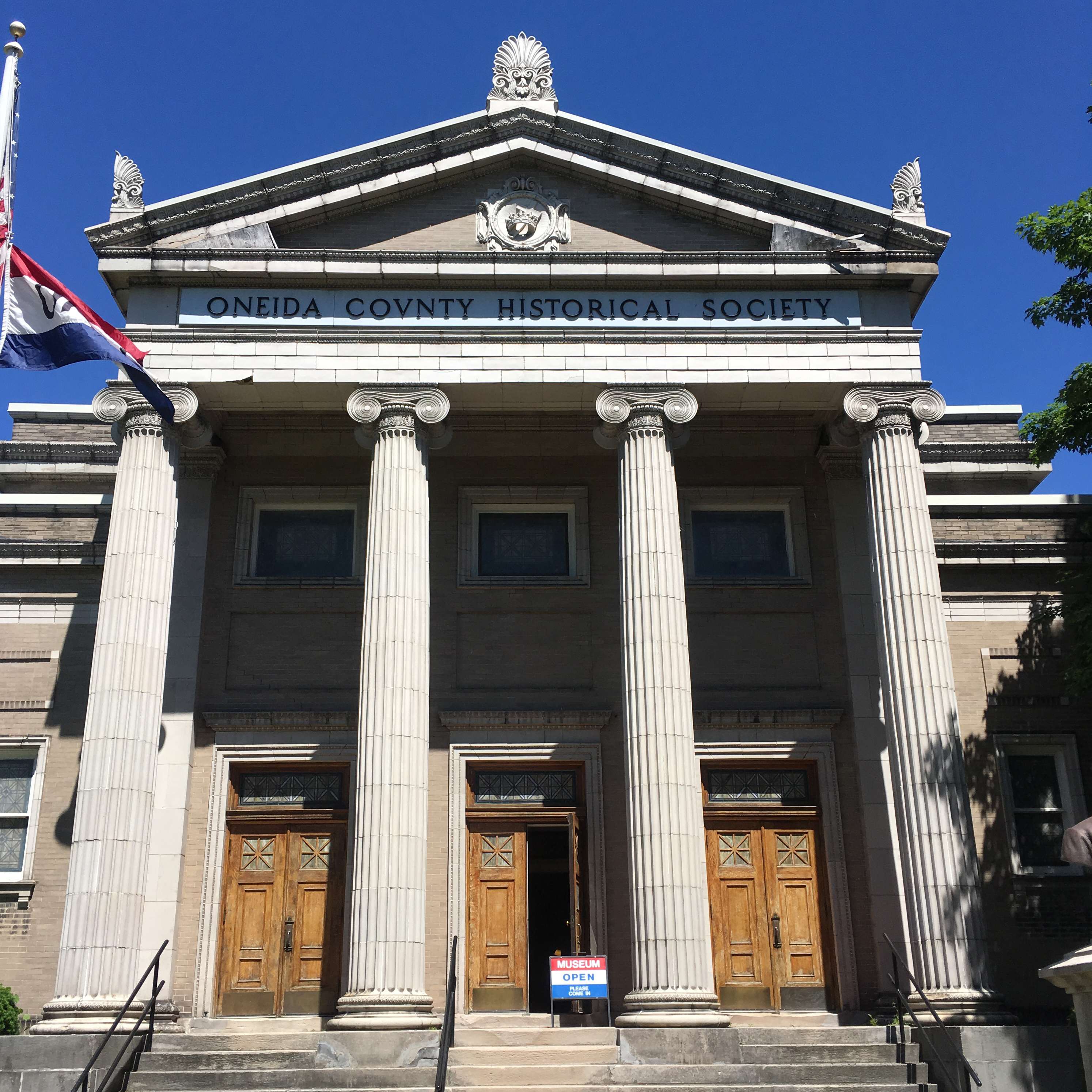 When it was established at the end of the 19th century, the Oneida County History Center (OCHC) in Utica served, in part, to bring the outside world to Oneida County residents. Today, it is the residents who are sharing their stories with OCHC to ensure the community's story can be told to the world and future generations. This work is a part of the History Center's project Quarantined in the Time of Corona: Oneida County Experiences during COVID-19.
"History," according to Rebecca McLain, Director of Education & Outreach at OCHC, "makes us who we are and shapes our identities." In the latest chat in our Q&A series, we talked with Rebecca and OCHC Digital Archivist Lauren Robinson about the History Center and its COVID-19 response—including OCHC's expansive collections, the origin of their COVID-19 documentation initiative, and why they think it's essential to document our current experience.
Tell us a little about the Oneida County History Center. Where is it located and what is its mission? 
Rebecca: The Oneida County History Center was founded in 1876. Today it is a non-profit organization with 2.5 staff members, 10-15 regular volunteers, 2-3 interns, and a board of trustees. The mission is to collect, preserve, and promote the local history, heritage, and culture of Oneida County and the greater Mohawk Valley. The organization is located at 1608 Genesee Street, Utica, NY, and operates inside a historic 1913 church built by the Church of Christ, Scientist. The main floor contains a 5,000 square foot gallery with a bookstore, exhibits, and programming space. The lower level contains a research library and storage for the collections. The History Center has gone through a few name changes over the years, starting as the Oneida Historical Society, later becoming the Oneida County Historical Society, and most recently the Oneida County History Center in 2017.
 
What is the size and scope of its  archival collections? 
Rebecca: The History Center's archival collection is substantial and contains over 250,000 documents and 30,000 images. The types of items held in the collection are diverse and include manuscripts, maps, pamphlets, census records, genealogical records, personal correspondence, business records, photographs, portraits, paintings, artifacts, historic objects, and much more. A variety of items were collected in the early days of the organization, some that do not relate to the area; the idea was to preserve local history and bring the outside world to Oneida County residents. Today, the focus is exclusively on Oneida County and Mohawk Valley history. Documents date from the 1600s to present day with substantial portions of documents from the 1800s and 1900s. The collection contains everything from colonial period land grant documents to Civil War enlistment records to 1950s restaurant menus. There is a little bit of everything and something to interest everyone. 
 
Can you describe some of the ways the History Center responded and adapted to the COVID-19 crisis?
Rebecca: The History Center has done our best to go digital and virtual. Basically we've tried to maintain our current services remotely. Staff were set up to work remotely (we just started to come back to the building on a regular basis) to access digital documents and images, and we increased our social media presence posting more often and utilizing the story function on Instagram and Facebook. We wanted people to know that we are still here and there is history to share. We also spent time updating and promoting our new online bookstore, and we set up a Zoom account for virtual volunteer and board meetings, and online presentations. 
 
Can you tell us a little about the "Quarantined in the Time of Corona: Oneida County Experiences during COVID-19" initiative? What prompted you to start it and how will the collection be used?
Lauren: Once the coronavirus pandemic reached the US, and local businesses started closing and sending staff home while NYS PAUSE started going into effect, I think it quickly became apparent that this was an important moment in history that we've personally never experienced before. Test sites were popping up locally, everyone was rushing to stock up on toilet paper and hand sanitizer, and suddenly social distancing was something everyone was doing. When 100% of nonessential staff had to leave work and adapt to telework, I think that's when our staff came up with the idea for our COVID-19 project. It was something we could work on remotely that supports the institutional mission, and it was an opportunity to document a historic event while crowd sourcing the curation process. For now, we're contacting people and encouraging submissions while we work remotely. When we reopen, we'll properly store that information with our other collections and make it accessible to the public for future research.
Rebecca: We first started the project simply collecting local newspapers. We had a number of volunteers who offered to clip relevant articles from various papers. The larger initiative spurred from this project. Lauren came up with the idea (she's being modest above) and then we both started planning for the larger project. We used the guidelines and resources distributed by APHNYS to make sure that we were doing our duties as historians and covering all of our bases. The Utica Public Library joined the project just as we were about to launch. They wanted to start a similar project and had the wonderful idea to collaborate and not duplicate. We were excited when they reached out to the History Center. They have been helping to promote the project and contact potential donors. 
We're trying to capture first hand knowledge of a major event in human history. We hope that this collection can be used to tell our community's story to both the world and future generations. History makes us who we are and shapes our identities. We want this information to be available to anyone who is interested. History can be applied in many ways, so it is difficult to predict exactly how it will be used; however, the collection will be available to researchers and will likely be used to create an exhibit in the future.
 
Why do you think it is important to document at this time?
Lauren: This is a historic event that's likely to have long-lasting impacts on several aspects of society. Future generations will eventually look back on this time and reference it the same way the Spanish Flu of 1918 is being referenced now as the last recent and similar pandemic event. What we're experiencing right now with NYS PAUSE and the coronavirus pandemic is a situation most wouldn't consider "normal", so it's important to document what that's like and the unique ways it's impacting society, and our personal lives so we can reflect on it later. By documenting personal stories and creating a COVID-19 collection, we're establishing a historical record of what our personal and professional lives looked like pre-COVID, and documenting specific actions individuals and businesses throughout Oneida County are doing right now to adapt to things like social distancing and telework. The personal narratives we've received also offer insight into the different perspectives and mindsets members of our community are experiencing. 
 
What kinds of materials have you been receiving? Can you share a few examples? 
Lauren: When we set up our online submission form, we provided some prompt questions to hopefully spur people to comment on changes they've noticed in the community, their personal responses, and their hopes for the future as recovery continues. So far, we're receiving personal stories and a few photos, but we're hoping we also see some audio/video submissions. People are telling us about activities they miss doing or new hobbies they've discovered while they're at home during NYS PAUSE. Some people feel isolated and lonely, some are scared to leave the house, and others are using social media more than ever to stay in touch with friends, family, and coworkers. The photo submissions have been really interesting. We've seen photos of popular hangout spots with zero foot traffic that just look deserted, COVID test lines in front of drug and grocery stores around the community, and things like outdoor church services held in parking lots, and high school graduation signs on front lawns. For me personally, I love seeing the lawn signage homeowners put out, and all the blue ribbons on trees supporting essential and healthcare workers. There's a visual sense of unified support in the community that's hard to describe. It's comforting.
 
Do you have any advice for institutions interested in creating their own COVID-19 documentation project?
Lauren: I think a lot of repositories are already trying to do similar projects, and that's great. It means we're doing our part for historians and researchers down the road by providing references and collections for them to consult. It's important to try to document all aspects of a historical event in order to present an accurate historical record, so there's going to be a lot of repeated information among different repository's COVID-19 collections in terms of the global and national response. What's going to make each of these collections uniquely different are the photos, the stories, and the details about the impacts the pandemic has in each repository's local community, and how that community's experience compares to others. Document as much as you can right now and record what's happening locally in detail. If we don't, who will?
Rebecca: Collect what you can now when experiences are fresh and try to reach out to all parts of your community to gain diverse perspectives. Keep in mind that the pandemic is not over, so this is a long-term project.  If you can encourage people to save primary sources or write down their experiences now, then hopefully we'll end up with a great resource. 
 
Do you have any additional projects, plans, or initiatives you'd like to mention?
Rebecca: This project is far from over and will continue for the coming months. We hope to spur this initial collection into an oral history project.  Check out our Facebook, Instagram, or website for updates!
 
Learn more about the Oneida County History Center at oneidacountyhistory.org. 
Image: "OCHC building, Horatio Wearing a Mask," courtesy of the Oneida County History Center.
Back To Blog