Interview: Oswego County Historical Society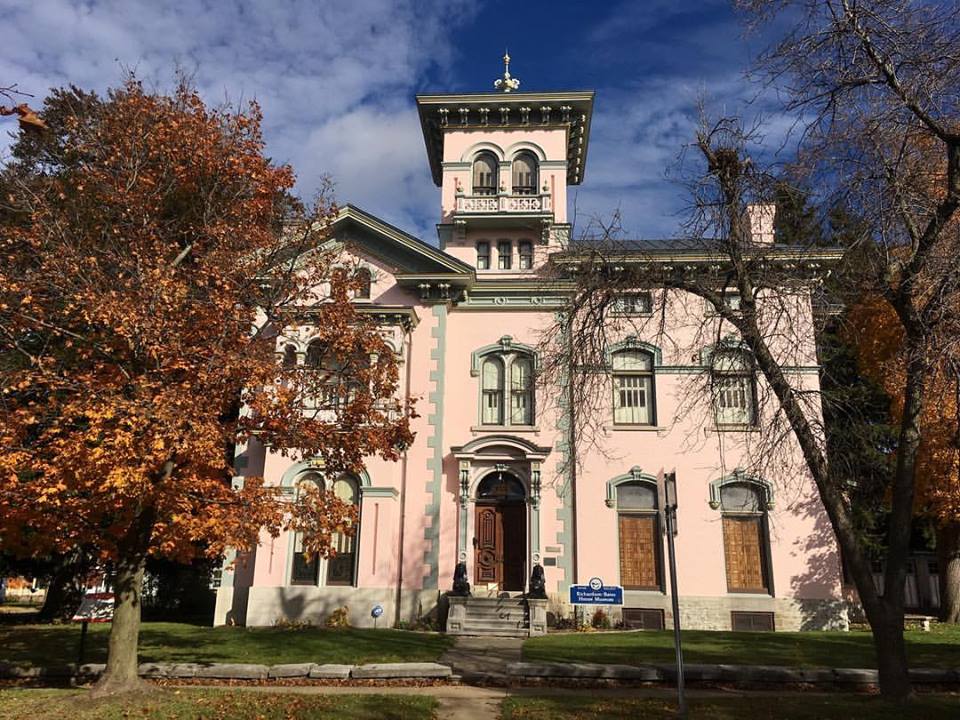 When we pulled up to the Oswego County Historical Society's Richardson Bates House Museum in 2018 to conduct an Archival Needs Assessment, we were struck by the majesty of the building and, upon entering, the well-displayed period rooms and exhibits of the history of the Richardson Bates family and Oswego region. From our first meeting, the enthusiasm of the board and staff was palpable, and their dedication to preserving the space, as well as seeking new solutions for ongoing care of the collections, was impressive. This week, we caught-up with OCHS Board of Trustees President Mary Kay Stone and chatted about their collections, the Archival Needs Assessment process, and a special exhibit coming this August.
Where is the Oswego County Historical Society/Richardson Bates House Museum located and what is its mission?
The Oswego County Historical Society, which owns and operates the Richardson Bates House Museum, is at 135 E. Third St., Oswego NY 13126. 
Mission Statement: The Oswego County Historical Society (OCHS) is a non-profit corporation organized with a mission to discover, to collect, to preserve and to interpret materials and objects germane to the history of Oswego County, to sponsor writings, publications, and to promote public interest in Oswego County's historical resources.
What's the size and scope of the museum's collections? 
The collections include about 40,000 items pertaining to Oswego County history. The largest and most visible collection is the house with its intact original contents: furniture, decor, and personal family items, that was donated to us by the fourth generation of the Richardson - Bates family in 1946. It is an opulent Victorian mansion from the post-Civil War era, finished in 1889.
Other significant collections include items from Dr. Mary Walker, born in the town of Oswego, Civil War surgeon, the second woman to get a medical degree in the United States, and to date, the only woman who has been awarded the Congressional Medal of Honor. We hold significant collections from the Civil War, 19th and early 20th century industrial Oswego, and maritime history on the Great Lakes. There are collections of maps, newspapers, scrapbooks, diaries, photographs, documents, photo negatives, glass plate slides, and many objects pertaining to County history. 
What organizational needs prompted you to apply for an Archival Needs Assessment?
When we started getting a little DHPSNY training in archives preservation, we recognized that the environmental conditions in our collection storage areas were alarming. In order to get both institutional support and grant justification, we knew we needed an expert assessment. 
What have been some of the outcomes of your assessment? Have you been able to make progress toward any of the goals identified in the report?
Before we applied for the grant, we were hoping to move the archives offsite to a larger, more accessible building where the process of digitization could happen, and where researchers and the general public could access them. That is still a long-term goal, and the grant report has provided important verbal ammunition for grants. But with clearly defined short term goals in the report, we are working now to move vulnerable collections from the most hazardous areas. Even though space is tight, we have identified less important items that we can either discard or move. 
What has been your favorite part of the process? 
I certainly enjoyed the interaction with the archivist and the process of the survey itself. A lot of information was conveyed verbally that day. It was like a mini-course as we walked and talked and we recognized how much we had to learn. The written survey was incredibly dense with information and links to websites to read for further training. It was so much more than I expected!
What has been a challenge you've met during the process?
We are tightly packed a little museum, with collections well organized, but crammed into every nook and cranny: closets, unused bathrooms, attic spaces and even parts of the basement. We are playing a game of Tetris to move items around so that the most valuable and vulnerable ones are in the better environmental conditions.
What is your personal favorite item or collection in the archives?
Since I have seen just a tiny fraction of the archives, it's hard to say. But a personal favorite probably is something I found that relates to my family. (And doesn't all history boil down to connections to your personal history?) I came across a newspaper article from the early 1900s about my great aunt and uncle, who were vaudevillians touring the United States.
How do you make your archival collections accessible to the public?
Currently our archival collections are only available through our limited exhibits, and appointments for researchers to look at specific items. It was one of the goals of this Archival Needs Assessment report to pave the way to get a larger more accessible storage area for our archives, so that it could be available to the public for personal and professional research. 
Have your collections been used to support any interesting research projects?
We know that our collections have been used by historians for book research. Recently, Dr. Robert Perkins published a book, "Oswego's Legacy: Lost to the Ages," about our incredible industrial history, using many of the images of historic buildings from our collection. Another researcher, writing a book on the World War II Emergency Refugee Shelter at Fort Ontario in Oswego New York, the only shelter for European victims of the Holocaust, photographed a scrapbook we have from a shelteree.
We will be collaborating with nearby Fort Ontario State Historic site and the Safe Haven Holocaust Refugee Shelter Museum on exhibits celebrating the 75th anniversary of that Shelter by displaying our related artifacts and archives in an exhibit. 
Are there any upcoming exhibits, projects, or events you'd like to mention? 
We are creating an exhibit which will open in August relating to bicycle racing in Oswego. A NASA artist, Don Gillespie, who grew up in Oswego County, has painted an image of a bicycle race which started in front of the home that became our museum. The race was held in 1895 with a famous one-armed bicyclist named Dave Horton. Don will unveil the painting, which he is donating to the historical society, and give a presentation on his historical research for the painting. We will then open a display on bicycle clubs, racing and related items. We own what may be the original bicycle ever bought in Oswego, a Columbia bone shaker, owned by Norman Bates, given to him by his uncle Max Richardson, builder of our historic house. We also own another antique wood bicycle and plan to borrow one of the 19th century bicycles made in Fulton NY. With original newspaper articles, photographs of bicycle clubs, images of bicycle manufacturers and stores in the county, and a rare bike touring guide for Oswego, we will flush out the exhibit with archival items.
For more information about the Oswego County Historical Society and Richardson Bates House Museum, visit http://www.rbhousemuseum.org
Back To Blog