Mentorship Applications Now Open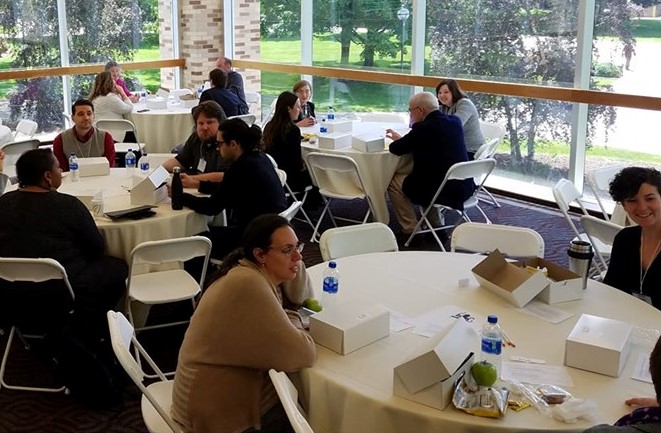 We're excited to announce a new round of DHPSNY's Mentorship Program! The current application is for cohorts that will meet from September 2019 – February 2020. Applications for this round must be submitted by July 19, 2019. The DHPSNY Mentorship Program is designed to create a community that supports those who care for the unique library research materials and archival collections in the state of New York, including volunteers, interns, students, and both emerging and seasoned professionals. Unlike the traditional one-on-one mentorship model, our program establishes mentorship circles, allowing individuals to serve as both a mentor and a mentee, and welcoming those seeking to engage in both roles. 
For insight into how the Mentorship Program impacts participants both professionally and personally, we reached out to Emeline Swanson, Archival Assistant at the Rockefeller Archive Center, who generously shared this reflection on her experience in our first Mentorship class.  
I can tell you right off the bat that I've made some lifelong friends in my mentorship group. When you are a newcomer in any field, it can be intimidating at first. The group is very supportive and encouraging of growth and learning opportunities. Everyone comes from different backgrounds when it comes to education and work experience, yet we all share the same common goal of expanding our knowledge of preservation and current trends in the archival profession.
As someone who is still figuring out my niche in the field and exploring career interests, I value networking and learning from others who work in institutions not quite like my own. It is fascinating to hear about the various records and document types that each institution has in its holdings. For example, I work in an archive that primarily contains philanthropic records. I enjoy expanding my knowledge beyond the realm of philanthropy and learning about librarianship at Historic Huguenot Street in New Paltz or the activities made available to the public at Slate Valley Museum in Granville.
I think the program is a fabulous opportunity to connect people with various roles and responsibilities who all share an interest in protecting history. And there are many histories to be shared! After engaging with the group, I feel even more determined to land an internship or career opportunity that delves into one of my personal interests: Native American history and culture. We plan on continuing our monthly meetings to host discussions regarding best practices in preservation, digital archiving, collaboration between our institutions, and any conference and workshop opportunities that may arise.
I'm grateful to DHPSNY for offering the mentorship program in addition to many other wonderful, free resources!
Applications for the latest round are available on our Mentorship page and must be received by July 19, 2019.
Back To Blog