Next Workshop Series: Mold: Prevention, Detection, Recovery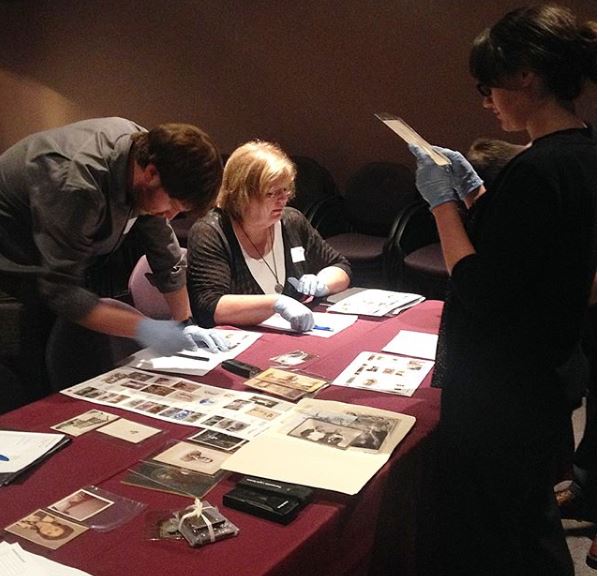 Last week, we presented the final two sessions of our summer Photo Preservation workshop series at the Roger Tory Peterson Institute in Jamestown (Chautauqua County) and the George Eastman Museum in Rochester (Monroe County, pictured). Ready or not, it's time to start looking ahead to the fall! Starting in October, we'll present a new series on Mold in five convenient locations throughout the State. Each location will host morning and afternoon sessions of the same program. Register today for one of the ten sessions below.
Mold: Prevention, Detection, Recovery
Presenter: Gillian Marcus, Preservation Specialist, DHPSNY
Time: 9:00 AM - 12:00 PM or 2:00 - 5:00 PM
Mold can stain artifacts and weaken paper, books, textiles, and proteinaceous materials such as leather. It can also cause health problems for staff and visitors. This half-day workshop will discuss how to identify mold, the environmental factors that allow mold to grow and thrive, and how to prevent an outbreak. Personal Protective Equipment (PPE) and procedures for handling the health risks of a mold outbreak will also be discussed. Attendees will learn best practices for cleaning moldy books and papers, as well as identifying when it's necessary to call a conservator or a professional mold remediation company.
Participants may register for morning OR afternoon sessions for each date. Registration is limited to 20 participants per session.
Tuesday, October 9th
Andrew L. Bouwhuis Library, Canisius College
Erie County | Buffalo, NY
library.canisius.edu
Tuesday, October 16th
Historic Huguenot Street
Ulster County | New Paltz, NY
huguenotstreet.org
Thursday, October 18th
Staten Island Museum
Richmond County | Staten Island, NY
statenislandmuseum.org
Tuesday, November 6th
Fort Ticonderoga
Essex County | Ticonderoga, NY
fortticonderoga.org
Thursday, November 8th
Cazenovia Public Library
Madison County | Cazenovia, NY
cazenoviapubliclibrary.org
DHPSNY's workshops are a great way to learn hands-on skills while networking and collaborating with other participants from around the State. Our education programs are free of charge for New York institutions and address important topics of interest to professionals and volunteers at organizations such as libraries, archives, and museums. Visit our Workshops page for a complete schedule of upcoming programs.
Back To Blog