Register Now for Fall 2017 Workshops!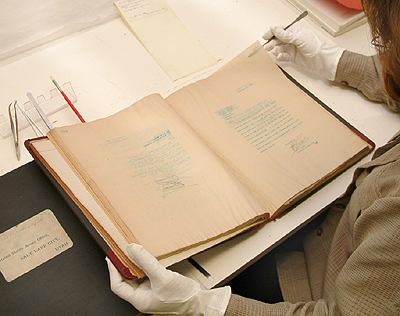 DHPSNY's educational workshops continue this fall with five presentations of Fundamentals of Caring for Paper Collections. Some dates are filling up fast, and it's never too early to reserve your spot!
This workshop will introduce best practices in caring for any paper-based collection, with topics including handling guidelines, assessing storage materials and special needs items, prioritizing for treatment, and understanding preservation and conservation terminology. This program is appropriate for those looking to develop new skills and individuals wanting to increase their knowledge of best practices in the care of paper-based collections. Learn more and register below.
Fundamentals of Caring for Paper Collections: Handling, Assessing Storage Needs, and Basic Care
Presenter: Gillian Marcus, DHPSNY Preservation Specialist
Dates: October 11 - November 15
Time: 9:30 AM - 3:30 PM
Click here to register for all Oct./Nov. workshop dates.
Wednesday, October 11
Brooklyn Historical Society
Kings County
Brooklyn, NY
Wednesday, October 25
Western New York Library Resources Council
Erie County
Cheektowaga, NY
Monday, November 6
National Museum of Dance
Saratoga County
Saratoga Springs, NY
Monday, November 13
Rakow Research Library, Corning Museum of Glass
Steuben County
Corning, NY
Wednesday, November 15
Roswell P. Flower Memorial Library
Jefferson County
Watertown, NY
Back To Blog