Reminder: Planning & Assessment Services Applications Now Open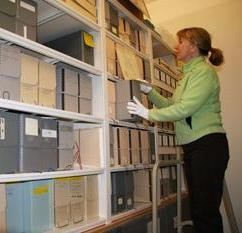 Just before the holidays, we announced our first Planning & Assessment Services application period of 2018. DHPSNY accepts applications year-round, with three review deadlines scheduled throughout the year in the spring, summer, and fall. The deadline to apply for the spring 2018 round is Friday, March 16th. Applications are available to download right now from each of our Planning & Assessment pages, where you will also find helpful information to guide you through the application process, including sample applications and answers to frequently asked questions.
DHPSNY offers free services in four categories: archival needs assessments, preservation surveys, condition surveys, and strategic planning assistance. Our services are designed to support New York organizations in improving and advancing program efforts while forming strategies for future growth and development. In each instance, our services aim to improve adherence to best practices and are tailored to an organization's unique circumstances.
Back To Blog