Antiracism Resources: Black History Collections and Projects in NY State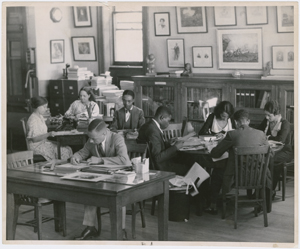 To continue our focus on Black History Month, we are building on our last blog post about educational resources by highlighting some of the unique Black History collections and projects throughout New York State. From developing curriculums to creating digital humanities projects and anything in between, public archival materials celebrate all aspects of Black History. Keep in mind that the following are only a small fraction of collections out there worth exploring.
A rich source of information can be found in historic newspapers, and important African American History includes 19th Century abolitionist publications. St. John Fisher College in Rochester, NY has digitized numerous anti-slavery newspapers and made them accessible through the New York Heritage Digital Collections portal. Dating from the 1830s til after the Civil War, the College's collections include The Anti-Slavery Record, The Liberator, Radical Abolitionist, and many different titles published by Frederick Douglass.
In Brooklyn, the Weeksville Heritage Center is "an historic site and cultural center" that works to "preserve, document and inspire engagement with the history of Weeksville, one of the largest free Black communities in pre-Civil War America." Among many activities that explore and celebrate Black History and culture, the Center has opened the 5th of July Resource Center for Self-Determination & Freedom. The accessible digital collections include a wide range of Oral History projects and recordings from people in central Brooklyn. Also located in New York City is the Schomburg Center for Research in Black Culture, which is a division of The New York Public Library system. As one of the most prominent sites "devoted to the research, preservation, and exhibition of materials focused on African American, African Diaspora, and African experiences," the Schomburg Center's vast resources of oral histories, archives and rare books, prints and photographs, art and artifacts, and more can be explored through their digital collections hub. 
For a more rural view of Black History, the Chemung County Historical Society holds photographs and audio interviews conducted from 1989-1991 in the Black Oral History Project. The collection "was conceived as a follow-up to the collaborative exhibit and publication 'A Heritage Uncovered: The Black Experience in Upstate New York, 1880-1925,'" which occurred in 1988. Detailed records of the exhibition and the work that went into coordinating and collecting these oral histories is also preserved at the Historical Society's Booth Library, providing context and a deeper understanding of African American experiences in the region. Looking at the present and the future, local history organizations such as the History Alliance of Kingston are developing collaborative historical projects, such as "a digital guide to compile existing Black History of Kingston resources and collect new ones for researchers and the general public."
Lastly, we encourage you to check out the New York State Archives Facebook and Twitter pages, to see highlighted images from their collections celebrating Black History across the state!
Have you recently made accessible collection materials relating to Black History in your institution? How is your institution celebrating Black History Month? If you have planned exhibits, online resources, or programs to celebrate Black History Month, DHPSNY wants to hear from you. Please share any comments or feedback below, email us at info@DHPSNY.org, or connect with us on the DHPSNY Facebook page or DHPSNY Community Facebook Group. 
This is part of a biweekly blog series on sharing information, promoting resources, encouraging discussion, and amplifying the voices of Black, Indigenous, and People of Color (BIPOC) doing antiracism work in archives, museums, history sites, and library special collections. DHPSNY is committed to supporting the diverse network of collecting institutions that safeguard and ensure access to historical records and library research materials across New York State. To learn more, visit our first blog post in the series. 
Image: "View of researchers using the Schomburg Collection, when it was the 135th Street Branch Library Division of Negro Literature, History and Prints, as it looked in 1938, with Catherine A. Latimer, reference librarian of the collection, in left background." The New York Public Library Digital Collections. https://digitalcollections.nypl.org/items/01f4e9f0-4cce-0132-98b1-58d385a7bbd0
Back To Blog