FOCUS ON: Archival Needs Assessments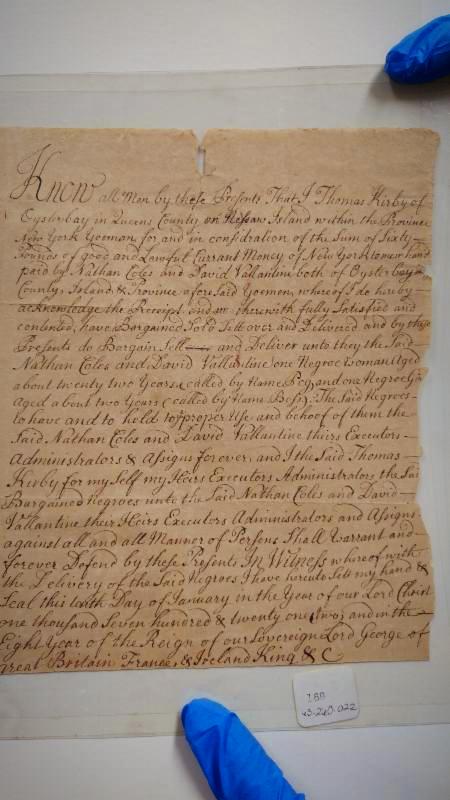 Since fall 2016, DHPSNY has awarded Archival Needs Assessments, Preservation Surveys, Condition Surveys, and Strategic Planning assistance to over fifty organizations. With this year's first Planning & Assessment application deadline coming up on Friday, March 16th, we are highlighting each of these services and how they can benefit your organization. Today, we're focusing on Archival Needs Assessments.
An Archival Needs Assessment is an excellent way to examine your archival program holistically through an external lens. The assessment looks at how your program functions, identifying what's working as well as areas of improvement. All of this is achieved through a pre-survey questionnaire and a one-day site visit by a DHPSNY surveyor.
The pre-survey questionnaire and site visit focus on topics related to the administration of your program, collections management, collections care and storage, the building and environment, and security and emergency preparedness. While these are the building blocks of the report, recommendations are tailored to each institution's needs.
"The final report addressed every issue I brought up during the evaluation visit and some that I hadn't," says librarian Mandi Shepp of the Marion H. Skidmore Library in Lily Dale (Chautauqua County). Through conversation before, during, and after the site visit, the surveyor works closely with the organization to ensure that recommendations align with the institution's needs and capacities.
The final report produced by the surveyor can become an invaluable resource for institutions. To help institutions begin thinking about how to apply report recommendations, discrete goals are identified by the survey and sorted into short-, medium-, and long-term goals. There is also an executive summary, highlighting primary concerns in a format that is easily sharable with board members, administrators, and funders.
"I cannot state enough how helpful the Archival Needs Assessment final report has been to my daily working life and how much it has helped me in the continuing process of bringing a truly unique library back to vibrant scholarly life."
- Mandi Shepp, Marion H. Skidmore Library
The Archival Needs Assessment written for the Empire State Aerosciences Museum (ESAM) provided a roadmap for the future. "The survey report is an incredibly detailed, personalized document," explains Donna Esposito of ESAM's Vander Veer Research Center (Schenectady County). "It summarizes everything we should be doing in one place, and I can see it being a valuable reference for us for years to come." You can read more about ESAM and what happened when a Lockheed LC-130 Hercules plane landed at the Museum during a site visit in our latest Q&A.
So far, more than 30 organizations have been through our assessment process. The overwhelming response has been that DHPSNY's assessments encouraged the development of archival programs, focused long-term planning, and even supported applications for funding.
Click here to learn more about Archival Needs Assessments and download application materials.
Back To Blog