Interview: Empire State Aerosciences Museum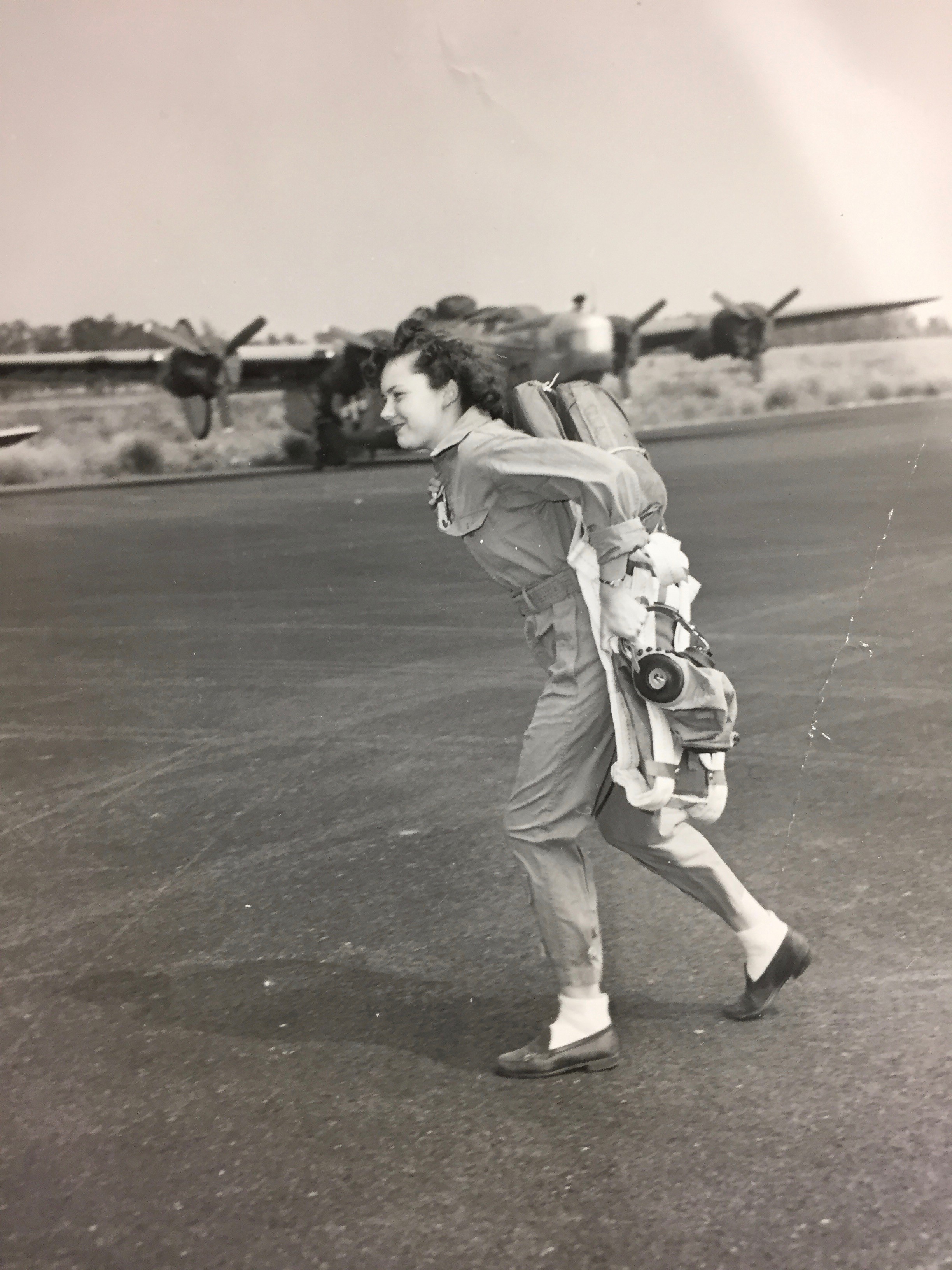 In DHPSNY's first Planning & Assessment round of 2017, we received an archival needs assessment application that particularly caught our eye. The name at the top was the Empire State Aerosciences Museum, and the Museum's website raised our hopes for the possibility of a very interesting site visit. Now, a few months since ESAM received its survey report, we reconnected with Donna Esposito, Director of the Museum's Vander Veer Research Center. She talked to us some more about the Museum's collections, upcoming programs, and how to stay focused at work while WWII fighter planes drop in to refuel outside your window.
---
Tell us a little about ESAM. Where is it located and how does it fit into the surrounding region?
New York State is particularly rich in aviation history, and the mission of the Empire State Aerosciences Museum is to interpret that history with exhibits and programs that educate, entertain, and excite the public.
ESAM is located in Glenville, New York at the Schenectady County Airport—yes, you can fly in to our museum! We are housed in the historic hangar and buildings originally occupied by the General Electric Flight Test Center from 1946 to 1964. Groundbreaking jet engine research and other aviation advances were pioneered here.  The airport dates back to 1927 when one of the first planes to land was the Spirit of St. Louis, flown by Charles Lindbergh shortly after his famous transatlantic flight. Later the airport housed a flight school that trained pilots during World War II.
Silly question: ESAM seems like such a cool place to work. Is it sensory overload being surrounded by military aircraft and lunar landing gear while you're trying to do your job?
The amazing items in our collection always astound me, from macro artifacts like the fighter jets in our outdoor airpark to a personal World War II v-mail letter found within the pages of a donated book. I have been known to don a vintage helmet or hop in a cockpit when I have the chance! The biggest distraction is not in the museum, but the airport itself. Our neighbor across the runway is the New York Air National Guard's 109th Airlift Wing, which flies special ski-equipped Lockheed LC-130 Hercules planes for missions in Antarctica and Greenland. My colleagues and I love to watch them take off, land, and do pallet drops. We sometimes have other interesting visitors, like a World War II B-25 Mitchell bomber that stopped to refuel last summer.
Last fall we had the honor of receiving an archival needs assessment by DHPSNY archivist Anastasia Matijkiw. A group of us sat intently listening to her suggestions… until we heard the sounds of engines. Then Anastasia's audience jumped up and raced to the window to see what plane was landing! We did apologize afterwards and explained we couldn't help it!
---
"The amazing items in our collection always astound me.... I have been known to don a vintage helmet or hop in a cockpit when I have the chance!"
---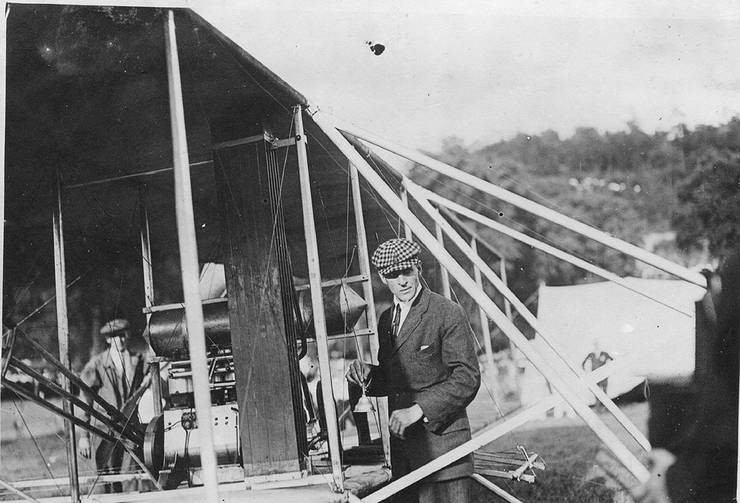 What's the size and scope of ESAM's archival collections?
In addition to our exhibit space, we have a large aviation library and archival holdings housed in our Vander Veer Research Center. We have more than 10,000 books, over 5,000 photographs, and over 6,000 other archival documents including aviation-related records, newspapers, periodicals, manuals, pilot logbooks, scrapbooks, postcards, stamps, and artwork. There is also a large collection of moving images on film, VHS cassette, and DVD.
What's your favorite item or collection in the archives?
It's really hard to pick just one item or collection. My particular interest is World War II aviation, so I'm especially drawn to items from that era. I recently came across a set of ten personal photos of nose art from B-24 Liberator bombers of the 44th Bomb Group of the 8th Air Force in England. Planes usually had a colorful name and artwork to go with it. This collection includes "Pistol Packin' Mama," "Heaven Can Wait," and "My Everlovin' Gal," with appropriately risqué artwork. All of the planes were later lost in combat.
Another, more wholesome, photo that I adore shows a young woman in flight gear running across an airfield in front of a B-24 bomber. The back of the photo is labeled "Mickey Hartle, Relative of Ed Haven." Haven ran the flight school at the Schenectady County Airport during WWII, so I assume it was taken there. I haven't been able to find more information about Mickey Hartle. Maybe a blog reader will recognize her?
How do you make your collections accessible to the public?
The Research Center is open to the public on Fridays and Saturdays from 9:00 AM to 12:00 PM or at other times by appointment. We can also accept research requests by phone at (518) 377-2191 or email for those people who can't visit in person.
We would eventually like to have our catalog publicly searchable and more collections digitized. We do make one important photograph collection available online: The Frank Coffyn Collection. Frank Coffyn was an early aviation pioneer and associate of the Wright Brothers. Most of the images date from about 1910 and feature a variety of early Wright aircraft and aviation personalities.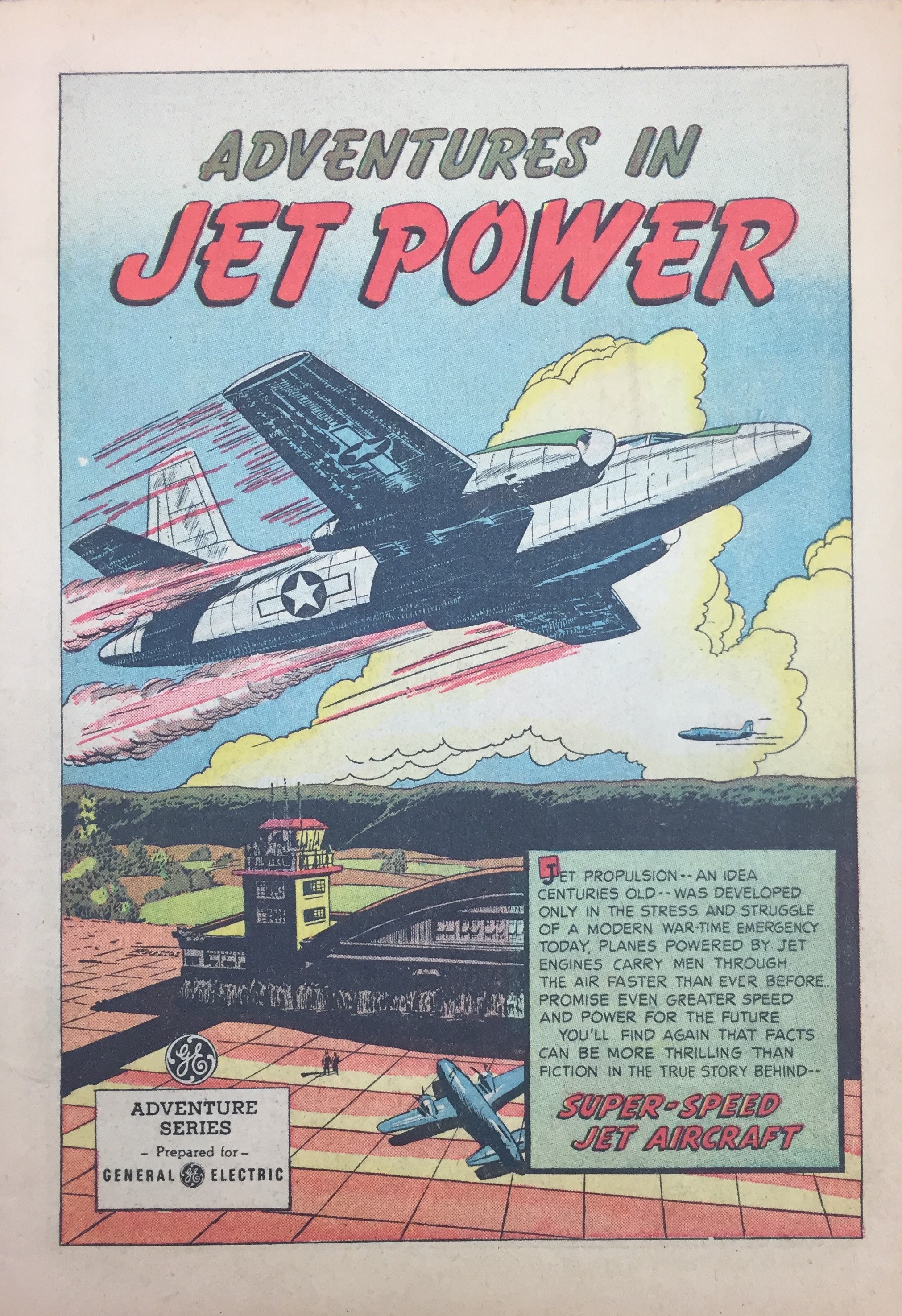 Have your collections been used to support any interesting research projects?
Last year, producers at the Travel Channel's Mysteries at the Museum series contacted us and asked for help researching the creation of the first American jet engine during World War II. We were able to provide them with archival photos, a service manual for an early GE engine from 1945, and best of all, a 1950 comic book produced by GE called Adventures in Jet Power, which features our museum—then the GE Flight Test Center—on the cover!
Are there any current exhibits you would like to highlight?
Our newest exhibit is a recreation of the Malta Test Station, General Electric's rocket research center that was located in Malta, New York.  In addition to large artifacts like a plug nozzle rocket engine on loan from the Smithsonian and a recreation of a bunker used in observing rocket tests, we have a variety of archival photographs on display that tell the story of rocket research in New York.
What do you have in store for the rest of 2018?
We are in the process of renovating our World War II exhibit. Because WWII aviation is such a broad topic, we plan to personalize it by telling the story through groups and individuals with a New York connection, from New York aircraft manufacturers like Grumman and Curtiss to the men and women who built, maintained, and flew the planes that won the war. In addition to objects like a New York-made Norden bombsight, we'll feature archival photos and documents from our collection.
---
Photos, from top: Mickey Hartle in flight gear, WWII era, presumably at the Schenectady County Airport; Frank T. Coffyn and the Wright Model B, July 4, 1911, Troy, NY; 1950 General Electric comic book Adventures in Jet Power.
Visit esam.org to learn more.
Back To Blog