Interview: The Greenwich Free Library, I.V.H Gill Room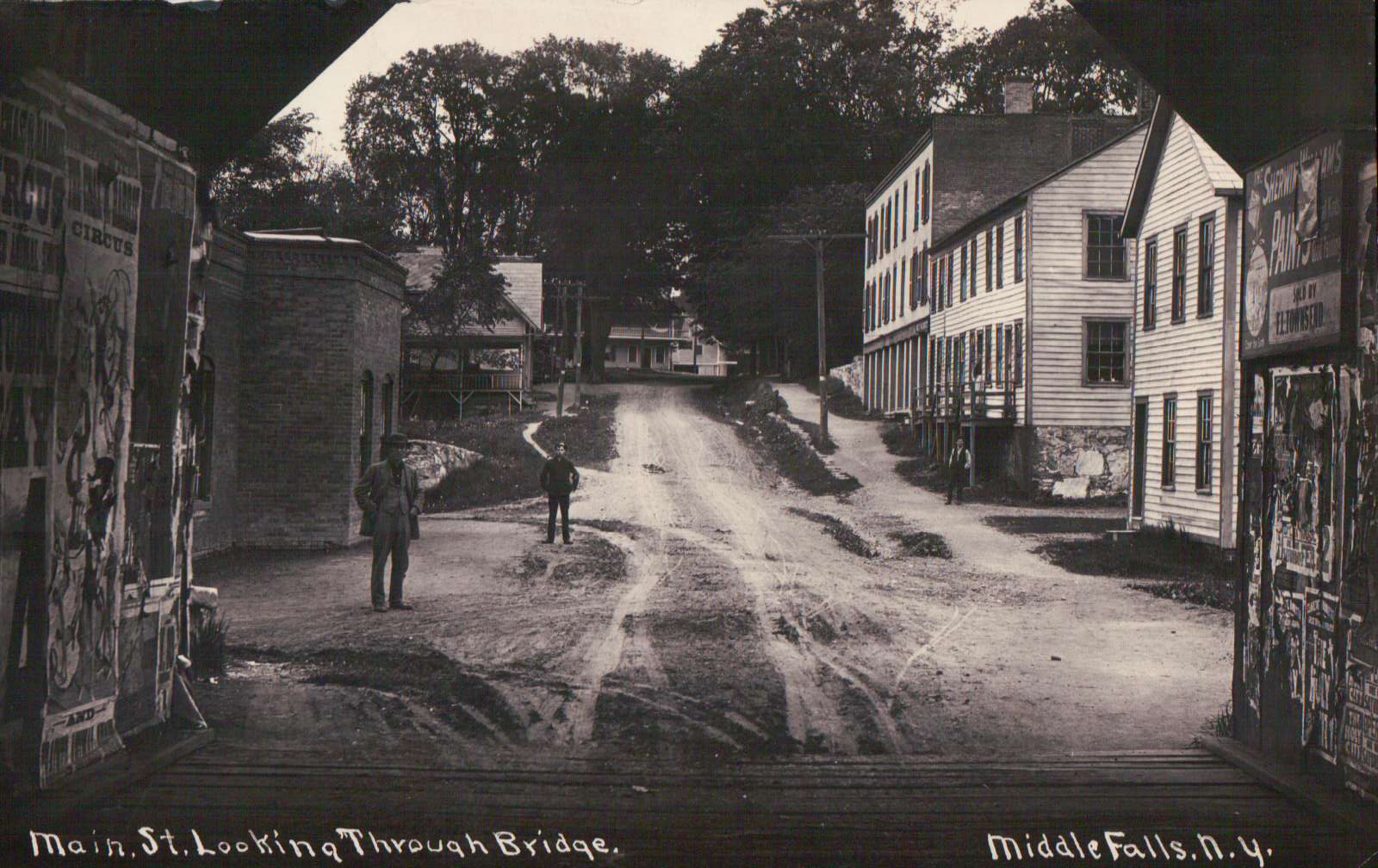 With DHPSNY's first Planning & Assessment Services application deadline of 2019 coming up on Friday, March 15, we thought it would be a good time to catch up with some of our alums to highlight each of our services.  
This week, we checked in with the I.V.H. Gill Room of the Greenwich Free Library, who received an Archival Needs Assessment in our fall 2017 application round. Reconnecting with Sandy McReynolds, the Gill Room Historian, we learned about the impact of DHPSNY's site visit, exciting upcoming events, and more.
For a more in-depth look at DHPSNY Archival Needs Assessments with testimonials, check out our previous post FOCUS ON: ARCHIVAL NEEDS ASSESSMENTS.
Tell us a little about the Greenwich Free Library, I.V.H Gill Room. Where is it located and what is its mission?
The I.V.H. Gill Room is located on the lower level of the Greenwich Free Library at 148 Main Street, Greenwich, NY. The I.V.H. Gill Room was created in 1965 and named after Islay Van Horn Gill, who was a supporter of the library and a local historian. After his death in 1964, Gill's collection of history books, documents, and notes were donated to the Greenwich Free Library and still make up the core of the Gill Room collections. When the library relocated in 1974, a small, separate room on the main floor was created for the archival material. In 2001, the library had a large renovation and The Gill Room was relocated and expanded into the lower level into two adjoining rooms.
Our mission is to keep history alive for future generations by documenting the social, economic, cultural, and natural history of Greenwich and its surrounding communities. 
What's the size and scope of the archival collections?
We have a rather large, eclectic, collection that consists of the genealogies of area families, books identified as written by residents of Greenwich, The Greenwich Journal microfilm collection (spanning 171 years), Asa Fitch manuscripts microfilm, an extensive collection of nearly 10,000 photographs, postcards, slides, and negatives compiled in several collections. In our oral history collection we have 38 recordings of local residents along with several video recorded interviews. We hold 119 bound volumes of The Greenwich Journal, The Salem Press, and the Commonweal newspapers spanning 1909 – 1986.  We are also stewards of the material of the local chapter of the NSDAR, Willard's Mountain as well as the material of the Greenwich-Easton Historical Association.
The Gill Room is used by residents of the surrounding area, historians, historical agencies, journalists, family genealogists, environmentalists, school groups, scout groups, and archaeologists. Requests for research have been received from across the country as well as internationally.
How did you learn about DHPSNY's Planning & Assessment Services?
We learned of this through various workshops DHPSNY have offered in the area.
What organizational needs prompted you to apply for an Archival Needs Assessment?
There were several factors that prompted us to apply. The first was the previous survey of our collection was done in 2006 as a Full Needs Assessment, so we were out of date. Having an up-to-date assessment was necessary to apply to for future additional grant funding.
Another reason why we applied was to raise awareness to the Board as to the challenges we have in collecting and preserving the local history. Lack of adequate space for preservation work and storage, environmental issues, our budget, and staffing issues are all things that were talked about in the report—having it from an official, professional agency goes much further in getting results.
The final reason why this service was applied for was to have some guidance. Receiving feedback on what we were doing, whether it was wrong or right, was needed. We aren't career historians or preservationists, we're one part-time employee and six part-time volunteers, and we've been "winging" it. It was time to up our game and work on building to archival standards. 
What have been some of the outcomes of your assessment? Have you been able to make progress toward any of the goals identified in the assessment report?
Happily, the outcomes so far have been positive. We have a fantastic Board that has backed us tremendously. Our budget went from $200 to $1,000 per year and a new space is being created for us—specific to our needs. We'll have modular storage and a larger one-room layout. We'll also adjoin a meeting room that we can use for programs and larger groups that wish to use our material. Also, the environmental issues will be addressed during construction of the new space, which is due to begin shortly and open by June 2019. 
New housing for items have been slowly making their way into the archives as we transfer collections into appropriate archival quality materials. Policies and plans that were recommended in the assessment are still being developed.
What has been your favorite part of the process? What has been a challenge you've met during the process?
I would have to say that meeting and working with the DHPSNY family has been one of the best parts of the process. I don't think things would have gone as smoothly if it wasn't for their knowledge and tremendous ability to make it stress-free.
A challenge during the process has been learning the methods for archival standards and deciphering the technical terminology—for those of us finding themselves dropped into this new world, it's quite an adventure.
What's your personal favorite item or collection in the archives?
Now that is a tough question. So I'm going to cheat a little and pick two. For a collection as a whole I'd have to say it's the photos. Seeing how things have changed—or not changed—through the passage of time makes the history come alive in a way that just reading about the structures and streets can't.
For one particular item, I'm going with our colorful Egyptian wall hanging, and yes, that is a bit of a departure from our regular collection. We happily accepted this as it is a piece of history of one of our local residents, Miss Ida Whiteside. She spent the first half of the twentieth century serving in Egypt as a dedicated missionary and this wall hanging is a colorful representation of Miss Whitesides' selfless years spent in dedication to educating the youth of Egypt.
How do you make your archival collections accessible to the public? (exhibits, online exhibits, appointments for researchers?
As we are split between two rooms, access to Gill Room 1 is available to anyone over the age of 18 whenever the library is open, which is 47 hours per week. They just need to sign in and a library staff member will let them into the room. This room holds the most popular items for researchers—family genealogies, cemetery records, microfilm, and the compilation binders which are collections of articles through the years on topics such as fires, railroad, prominent people, and veteran records. The more fragile materials are located in Gill 2, and are only accessible when a volunteer or staff member is present. We try to accommodate people as much as possible and set up appointments with researchers.
We have also contributed to the website www.nyhistoricnewspapers.org and have approximately 165 years of the Greenwich Journal (under various names) searchable online.
In December 2018, we created our own Facebook page, Gill History where we can share the photographs in our collection with the public. It's a great way to have an exchange of information.
Have your collections been used to support any interesting research projects?
Our collections were used on a project concerning the Siege of Saratoga, a research plan for the Cultural Resource Inventory of the Northeast Section of the Saratoga Siege Battlefield. The Washington County Historical Society and the Folklife Center at Crandall Public Library have also researched our material for programs and events they have offered.
Are there any upcoming exhibits, projects, or events you'd like to mention?
What we have planned so far includes an event in June, we'll once again offer the Historic Fires of Main Street Walking Tour. As has become a yearly program during our local founder's day event, Whipple City Festival, we begin at the library and end at the Rough & Ready Firehouse Museum. The firehouse museum is open for tours and is a great historical gem in our village.
In September, there are a couple events planned. We'll have the official grand opening of the new Gill Room with some smaller activities tied in. Plus, on the 28th, we'll be participating in the Washington County Historical Society's History Fair in Hartford, NY. It's a fantastic event and a wonderful treat to see other area historians and groups with their displays. This has become a great method to connect with each other and the public in a way we generally don't have the opportunity to do otherwise.
Learn more about the I.V.H Gill Room at https://www.greenwichfreelibrary.org.
"Main Street Looking Through Bridge." Gill Room Postcard Collection, Greenwich, NY. Circa 1900.  This postcard, looking East towards Middle Falls, was taken from inside the covered bridge that once spanned the Battenkill at the current location of the Greewich Free Library.
Back To Blog