"Assessing the Condition of Your Book Collections" Webinar Recording Now Available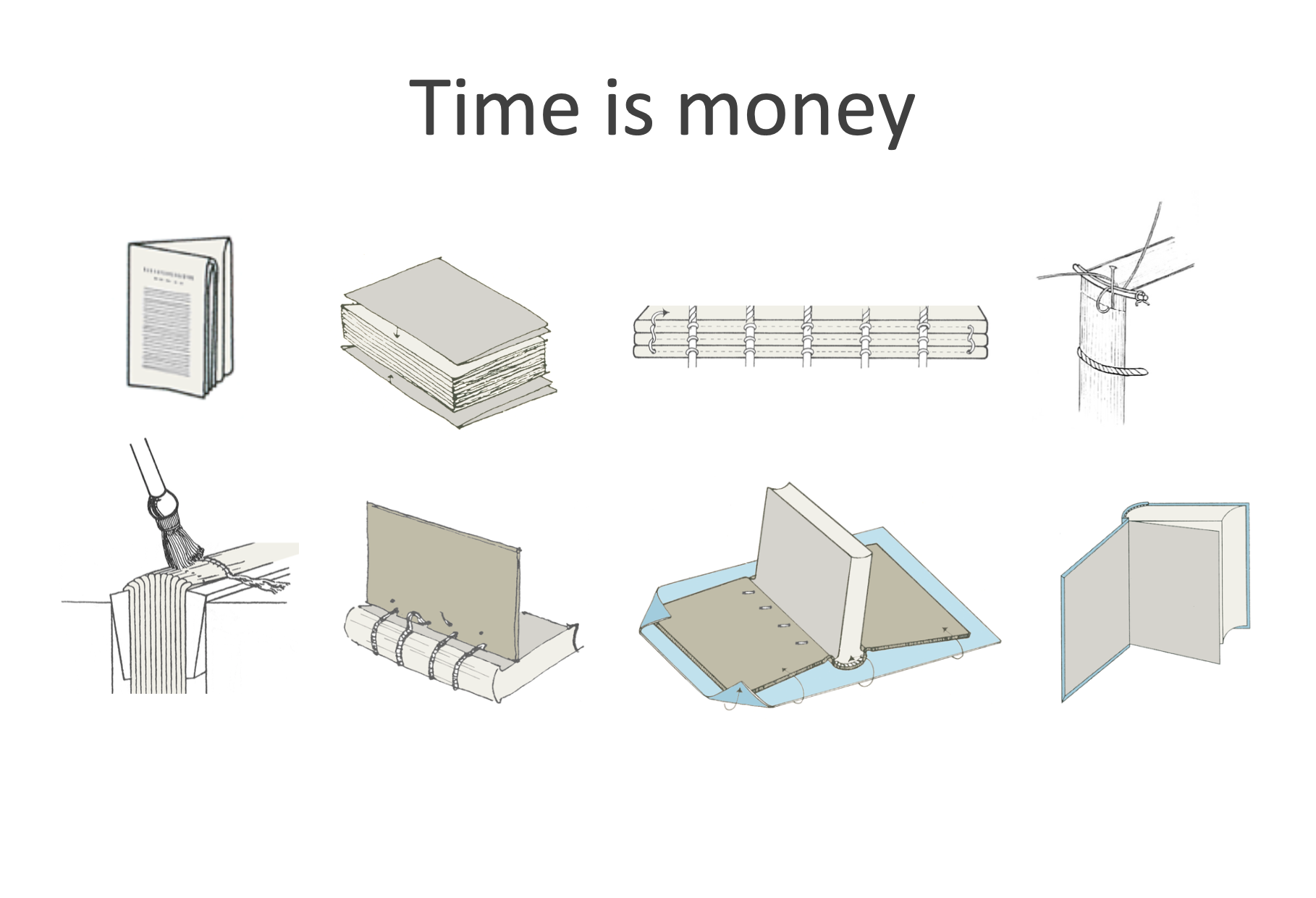 In the second presentation of our "Common Collection Conditions" series, Assessing the Condition of Your Book Collections, presenter Amber Hares, Book Conservator at the Conservation Center for Art & Historic Artifacts, discussed how to identify common condition problems found in book collections and how to prioritize collection items based on the urgency of conservation needs. To aid participants' understanding of the factors that affect the long-term preservation, her presentation included overviews of book anatomy, materials, and book-making processes, accompanied by informative diagrams, illustrations, and photographs. This thorough presentation is a must-see for institutions of all sizes! In addition to the recording and PDF of the slideshow, below are additional notes and resources from Amber, as well as links to recommended webinars.
Click here to view the recording.
Click here to download the slideshow.
Join us this Thursday, April 30 at 2:00 PM for our next webinar Lighting: Beyond Standards! Learn more and register on our Webinars page, dhpsny.org/webinars.
Presented free of charge to New York institutions, DHPSNY's education programs address the needs of professionals and volunteers responsible for the care and handling of historical records. Our webinars address emerging issues and best practices, with content scaled to apply to small- and medium-sized organizations with limited resources. 
***
Webinar Notes from Presenter Amber Hares
MOLD:
DHPSNY webinar covers how to identify, prevent, and respond to mold in library collections: Mold: Prevention, Detection, and Response (link to post with PDF and additional materials).
CCAHA technical leaflet on managing a mold outbreak: https://ccaha.org/resources/managing-mold-infestation-guidelines-disaster-response
Infographic: https://ccaha.org/resources/mold-and-cultural-collections
Note on mold vs leather bloom: Having a better understanding of when and how mold grows, will help with distinguishing between mold and leather bloom, and other lookalikes (e.g. dirt, silverfish grazing, etc.). Mold has a centralized growth pattern and has a much more irregular appearance. As I mentioned yesterday, mold needs moisture to grow. If you find growth on a leather binding that has been kept under stable environmental conditions, it is likely bloom. If you're ever in doubt, reach out to a conservator. We should be able identify between the two from a couple of photographs and a description of the situation. 
PROTECTIVE ENCLOSURES:
Any bound volume can benefit from a protective enclosure but books that should be a high priority for housing are those that are at risk of loss (e.g. detached boards, significant textblock splits); are made of vulnerable material (e.g. parchment, iron gall ink); lack support (e.g. missing covers, paper pamphlets, significant distortion); or have current housing that is damaging or harmful. 
Storage enclosures can take on many different shapes and can be purchased from a variety of suppliers or build in-house. (CCAHA offers a couple of hand-on workshops on constructing enclosures: https://ccaha.org/education/fee-service-workshops). What's important is that the housing causes no physical or chemical damage to the object. To ensure this, enclosures should have these features: 
They should have a durable construction… i.e. they can appropriately support the object at hand
The method of attachment (if there is one) should be innocuous
They should be appropriately sized (large enough to easily and safely remove/return the object but small enough so the book doesn't jostle around when in transit).  
And they should be constructed out of chemically stable materials
Shopping for enclosures can be confusing, I highly recommend listening to another of DHPSNY's great webinars on housing basics to be a more informed shopper: https://www.youtube.com/watch?v=Pl5MI_NSFRM&feature=youtu.be
List of Conservation Suppliers, companies that offer conservation-grade materials for collection storage. The list is not exhaustive, and inclusion on the list does not imply endorsement by CCAHA, nor does omission indicate censure.
 FIRE DAMAGED MATERIAL:
In retrospect, I am pretty sure the person who brought of fire-damaged material was looking for advice on prioritizing. (Sorry, I went a completely different/unhelpful direction). Using our 5 priority levels, I would generally place fire-damaged material in a high category because soot becomes more difficult to remove with time from what I have read. It's also important to keep in mind that the very fine greasy particles of soot can easily be further embedded into an item from handling. Soot also presents health and safety concerns, so appropriate caution should be taken.
Recommended DHPSNY Webinars
Common Collection Conditions: Assessing the Condition of Your Paper-Based Collections 
Collections Care Basics: Agents of Deterioration 
Back To Blog